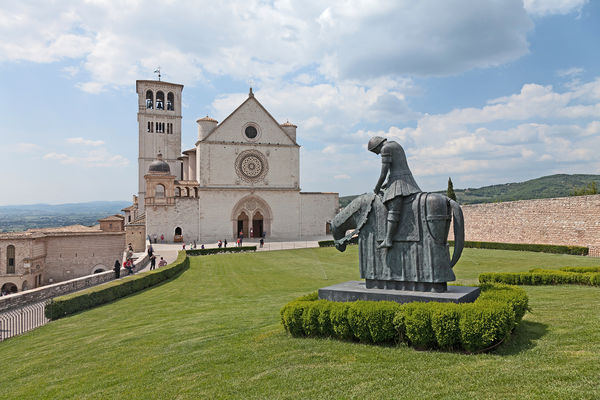 * * * *
Next August 27 – a Saturday – I'll be flying over to Rome. From there I'll take a train up to Assisi to meet up with my brother and his wife. Then on Thursday, September 1, we'll start hiking the 154 miles back to Rome, via the Way of St Francis. But first I have some feast days to cover.
The first one is The Transfiguration of Jesus, celebrated back on August 6. I covered that in The Transfiguration – 2020. (Back in "Week 21 of the COVID-19 pandemic.") The following Monday, August 15, was the Feast of St. Mary the Virgin. I covered this "Mary" in 2019's St. Mary, "Virgin," and more on Jerusalem, and the next year in St. Mary, 2020 – and "Walls of Separation."
Which is where "From Jerusalem to Assisi" comes in. My 2019 pilgrimage to Jerusalem included a side trip to Bethlehem, and in that town – where Jesus was born – we found the "Wall of Separation" discussed below. That is, the 2019 post Mary [and] more on Jerusalem gave some background on this particular feast day. But it also talked at length about my May 2019 pilgrimage to Israel. (Beginning with arriving in Tel Aviv on another Saturday evening and being able to get quickly – and surprisingly – through the "dreaded Israeli security at Ben Gurion airport.")
That post covered the Jerusalem visit from our arrival on Saturday night, May 11, to the following Friday, May 17. That's when we visited the Judean wilderness, the Jordan River and Jericho. I revisited the post the following year in St. Mary, 2020 – and "Walls of Separation." It covered at greater length our visit to Bethlehem on May 16. The coverage included the ironic if not incongruous "Wall of Separation" that runs through Bethlehem. (Where Jesus was born.)
I say ironic because what some call the Wall of Separation, the powers that be call the "Israeli West Bank barrier." And there, right next to the Wall, our group stopped at the "Walled Off Hotel.*" For more see Banksy′s hotel with ′the world′s worst view′ opens in Bethlehem:
"With a play on words on the luxury Waldorf Astoria chain, this place is called the Walled Off Hotel, because it was built almost immediately next to Israel's separation wall in the Palestinian-ruled city where Jesus Christ was born."
Which of course would be Bethlehem. That's where Jesus was born and where "God's love, mercy, righteousness, holiness, compassion, and glory" were expressed in Him. But seeing the Walled-off Hotel in that birthplace, "I didn't know whether to laugh or cry." And I still don't.
But there's another reason to review those two posts. I'm just finishing up a book, "On Mystic Christians – (you know, the real ones?") Of which more in a future post, but once I finish that book, I plan to start another one, on that May 2019 three-week visit to Jerusalem. (And much of the rest of Israel, including my taste-testing the distinction between Israeli Maccabee Beer, and the also-locally-brewed Taybeh Palestinian beer.) But I also want to start a book on my three hikes on the Camino de Santiago, to include that next one coming up, the Way of St Francis.
It just so happens that I wrote about St. Francis back in October 2015, in Saint Teresa of Avila:
"In other words, a mystic is a person who seeks to become 'one' with both God and his or her neighbor. Not unlike Francis of Assisi. (Who no doubt some contemporaries thought himself was a bit of a weirdo…)"
Which brings up two possible foreshadowings. One, my eventually writing a book on Mystic Christians. ("You know, the real ones?") And a soon-to-be pilgrimage to Assisi and the Way of St Francis. But before closing, let's get back to those feast days. Or at least the highlights.
Turning first to Mary, 2019's St. Mary … and more on Jerusalem noted that aside from being the mother of God the Son Incarnate in Christianity, "Mary (Maryam) also has a revered position in Islam, where a whole chapter of the Qur'an is devoted to her." And millions of Christians consider her to be the most meritorious saint of the Church, as both the Mother of God and the Theotokos. (Literally "Bearer of God.") On that note, in Renaissance paintings especially, Mary is shown wearing blue. That tradition goes back to Byzantine Empire, to about 500 A.D., "where blue was 'the colour of an Empress.'" Which seems appropriate…
Going back to the August 6 feast day, the Transfiguration – 2020 post talked about how COVID might be a blessing in disguise. Then it harked back to the Transfiguration – The Greatest Miracle in the World. No less a person than St. Thomas Aquinas considered it The Greatest Miracle because – unlike the other Gospel miracles – this one happened to Jesus. (Making it "unique among those listed in the 'Canonical gospels.'") Then too, the episode also transformed the disciples who witnessed the event, and "never forgot what happened that day." (Which was probably what Jesus intended.) One witness, John, wrote in his gospel, "We have seen His glory, the glory of the one and only." (John 1:14.) Peter also wrote of it, "We ourselves heard this voice that came from heaven when we were with Him on the sacred mountain." (2 Peter 1:16-18.)
And from there they went on to TRANSFORM (Transfigure) the world.
But there's still a lot of work left for us to do. For one thing, we need to start tearing down the walls that separate us, and turn neighbor against neighbor. (See Divisive walls can be broken down through Jesus for one thoughtful review, with citations to Romans 10:12 and Galatians 3:28, among others.) Then there's Ephesians 2:14, which reads in the Good News Translation, "For Christ himself has brought us peace by making Jews and Gentiles one people. With his own body he broke down the wall that separated them and kept them enemies."
So as for my pilgrimage to Rome, Assisi and the Way of St Francis:
Here's hoping I don't find any Walls of Separation!
* * * *
* * * *
The upper image is courtesy of St Francis Assisi Basilica – Image Results. It is accompanied by an article, Finding Peace and Faith in Assisi by Rick Steves.
In Assisi, my favorite ritual is to sit quietly on the rampart of the medieval fortress high above town. I look down at the basilica dedicated to the saint, then into the valley at the church where Francis and his "Jugglers of God" started the Franciscan order. Hearing the same birdsong that inspired Francis, and tasting the same simple bread, cheese, and wine of Umbria that sustained him, I calm my 21st-century soul and ponder the message of a saint who made the teaching of Jesus so accessible.
Re: Book of Common Prayer. See page 339, under Holy Eucharist: Rite One:
Almighty and everliving God, we most heartily thank thee for that thou dost feed us, in these holy mysteries, with the spiritual food of the most precious Body and Blood of thy Son our Savior Jesus Christ; and dost assure us thereby of thy favor and goodness towards us; and that we are very members incorporate in the mystical body of thy Son, the blessed company of all faithful people…
Or see Online Book of Common Prayer. As to "corporate" and "mystic," it's like body and soul. Ideally they are a unified whole, but some people lose sight of the one in focusing too much on the other…
Re: The Way of St. Francis. The Via di Francesco website says it is a "route to reach Assisi following in the footsteps of St Francis, whether leaving from the North (La Verna) or the South (Rome)." In our case, we'll explore Assisi on the afternoon of August 30, after meeting up, then during the day of August 31. Then we'll head from Assisi back to Rome.
Re: Getting "quickly – and surprisingly – through 'the dreaded Israeli security.'" A driver from Saint George's College Jerusalem met our group of nine from my church back in Georgia. We were part of a larger group taking the 14-day Palestine of Jesus course, and in a sense that driver whisking us through Ben Gurion security was a minor miracle in itself.
Re: The Walled Off Hotel link. Be sure to read the Safety Notice, advising that due to current political developments, there is a potential for "increased tension" in the area. And further that the "narco's [sic] among you" should bear in mind that the UK Foreign Office has advised against joining any demonstrations while visiting the area.
Re: Still a lot of work to do. For more reviews search "Jesus breaks down walls."
I took the photo of the Wall of Separation, just outside the "Walled Off Hotel."
* * * *