St. Nicholas … "transformed into a sympathetic old Santa Claus…"
*   *   *   *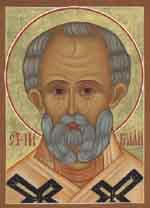 Tomorrow – Tuesday, December 6 – is the Feast Day for Nicholas of Myra.* (But only in the Daily Office Lectionary, not the Revised Common Lectionary used for Sundays.*)  And he – Nicholas of Myra – eventually became the guy we now know as Santa Claus.  (Also known as "Jolly Ol' St. Nick.")
Of course there are those who refuse to believe in him.  That is, there are some people out there who think that Santa Clause is a myth:
A myth is a sacred narrative because it holds religious or spiritual significance for those who tell it.  Myths also … express a culture's systems of thought and values as the myth of gremlins invented by aircraft technicians during World War II to avoid apportioning blame.
See Myth – Wikipedia, which included the image at left, of such "gremlins" at work.  And just as a point of order:  These "gremlins" – especially during World War II – did not work for the enemy:
[E]nemy aircraft had similar and equally inexplicable mechanical problems.  As such, gremlins were portrayed as being equal opportunity tricksters, taking no sides in the conflict, and acting out their mischief from their own self-interest.
But we digress…  The point is this:  There is a solid basis in historical fact for believing in both "jolly old St. Nick" and in the spirit of Christmas.
For starters, Nicholas of Myra was a real person who lived from the years 270 to 343 A.D.  And around the year 300 he was elected Bishop of Myra.  As a bishop his "legendary habit of secret gift-giving gave rise to the traditional model of Santa Claus through Sinterklaas:"
The best-known story involves a man with three unmarried daughters, and not enough money to provide them with suitable dowries.  This meant that they could not marry, and were likely to end up as prostitutes.  Nicholas walked by the man's house on three successive nights, and each time threw a bag of gold in through a window…  Thus, the daughters were saved from a life of shame, and all got married and lived happily ever after.
And here's another side note:  "Myra" is now the city of Demre, in Turkey, where it doesn't get that cold in the winter.  But then the story of this "St. Nicholas" started getting repeated in colder, northern climates.  (Where no one would keep their windows open in December.)
That's when the story got tweaked, and St. Nick started delivering his gifts via the chimney.  (For more on that see The History of Santa Claus and Chimneys.  For one thing:  "In pre-Christian Norse tradition, Odin would often enter through chimneys and smoke holes or fire holes on the solstice, which marks the beginning of winter.")
For more on the real St.  Nick, see On the original St. Nicholas, or On St. Nick and "Doubting Thomas."  The first one noted how the story of St. Nicholas was basically a gift to America from the country of Holland:
Dutch colonists took this tradition [of St. Nicholas] with them to New Amsterdam (now New York City) in the American colonies in the 17th century.  Sinterklaas was adopted by the country's English-speaking majority under the name Santa Claus, and his legend of a kindly old man was united with old Nordic folktales of a magician who punished naughty children and rewarded good children with presents.
The second post noted how the original – the real St. Nicholas – saved three innocent men from death, as shown in the painting below.  It seems he was visiting a remote part of his diocese when he heard about three men, condemned to death back in Myra.  The "the ruler of the city, Eustathius, had condemned three innocent men to death."
When he arrived back in Myra he went immediately to the site of the execution, took the sword from the executioner's hand, and ordered that the innocent men be set free:
His authority was such that the executioner left his sword where it fell.  Later Eustathius confessed his sin and sought the saint's forgiveness.  Nicholas absolved him, but only after the ruler had undergone a period of repentance.
So there you have it.  The real "Ol' Saint Nick" was not only jolly, he was personally brave.
And so, back in 1897 – when Francis P. Church of The (New York) Sun responded to a letter to the editor – he was pretty much telling the truth when he wrote, "Yes, Virginia, there is a Santa Claus."  (The letter he responded to was written by eight-year-old Virginia O'Hanlon, seen at left.) 
Of course the whole idea of "Santa Claus" – and indeed Christmas itself – has gotten glossed over and commercialized over the years.  See for example How Christmas Became the Most Commercialized Holiday.  That article started off which started off with a quote from Lucy Brown – of Peanuts fame – when she told Charlie Brown:  "Let's face it…  We all know that Christmas is a big commercial racket.  It's run by a big eastern syndicate, you know."
Simply put, Christmas became big business.  And as such it spawned a host of new cottage industries:  Books published, woodsmen "heading into the forests each December to cut evergreens to sell on street corners," tinsel, toys, candle-holders, candles, candies, garlands, ornaments, and hand-colored Christmas cards, to name a few.
All of which is wonderful for the economy.  But each Christmas it's also a good idea to go back to the original source.  To go back to the jolly – and brave – original St. Nick.  (Seen below, in action.)  And of course to remember Jesus, The Reason for the Season.
*   *   *   *
"Yes, Virginia, there is a Santa Claus," and this is him, saving three men from death…
*   *   *   *
The upper image is courtesy of saint nicholas church st nicholas church is the most outstanding … tourmakerturkey.com, which added:  "The protective personality of St. Nicholas and desire of helping children in difficult situations have been transformed into a sympathetic old Santa Claus … appearing on Christmas Eve to make everybody happy."
"Note" also that an asterisk in the main text indicates a statement with a reference detailed further in this, the "notes" section.  Thus, as to St. Nicholas' day, it's only a Feast in the Daily Office Lectionary, not in the Revised Common Lectionary used for Sundays Bible readings.  Under the "RCL" – detailed at The Lectionary Page – there are no listed Feast Days until December 21, for St. Thomas, Apostle.
The Santa/chimney image is courtesy of Zat You Santa Claus? – Free Christmas…links2love.com.  Also, re: St. Nick:  See also Saint Nicholas – Wikipedia and/or Nicholas of Myra – Livius
The lower image is courtesy of Saint Nicholas – Wikipedia, the free encyclopedia, with the caption:  "Saint Nicholas Saves Three Innocents from Death (oil painting by Ilya Repin, 1888, State Russian Museum)."   See also St. Nicholas Center … Saint Who Stopped an Execution.