* * * *
For many people, the fun part of Halloween is being able to think outside the box. I'm not that crazy about Halloween myself, but I do like the part about thinking outside the box. So here goes, an extra added treat for this "All Hallows E'en:" I'm imagining Jesus updating the Parable of the Good Samaritan, as He would tell it today, in this deeply divided country.
"A man was traveling down from Washington D.C. to Richmond, Virginia, when he was attacked by robbers. They stripped him of his clothes, beat him and then went away, leaving him near death. In due course a Christian Evangelical happened to be going down the same road, and when he saw the man, he passed him by on the other side. So too, a Southern Baptist preacher, when he came to the place and saw him, passed by on the other side.
"But a California Liberal, as he traveled, came where the man was; and when he saw him, took pity on him. He went to him and tended and bandaged his wounds, then put the man in his car, brought him to a nearby Hilton and took care of him. The next day he took out his credit card and paid for two night's lodging, and told the clerk, 'Look after him, and when I return, I'll reimburse you for any extra expense you may have.'"
The thing is, the Pharisees in Jesus' time hated Samaritans as much as today's Conservatives seem to hate Liberals. (See Hatred Between Jews and Samaritans | Bible.org. Or google "liberal heresy.") So, I wonder what point Jesus would be making, if He updated the story that way?
Then there's this: "If God [is] generous with you, He will expect you to serve Him well. But if He has been more than generous, He will expect you to serve Him even better." (Luke 12:48.)
A reminder for those who have "been given much," now and in the near future.
* * * *
But we were talking about Halloween, which isn't just one night. It's part of a three day celebration – a "Triduum" – that begins on "All Hallows E'en." It then continues into "All Hallows Day" – better known to us as All Saints' Day – and ends on November 2 with All Souls' Day. (The term "Hallowe'en" developed from the Old English word for "saint," halig.) This three-day period is a time to remember the dead, including "martyrs, saints, and all faithful departed Christians." The main day of the three is November 1, what used to be referred to as Hallowmas.
Halloween itself started with an old-time belief that evil spirits were most prevalent during the long nights of winter. And those "old-timers" also thought the "barriers between our world and the spirit world" were at their its lowest and most permeable on the night of October 31:
So, those old-time people would wear masks or put on costumes in order to disguise their identities. The idea was to keep the afterlife "hallows" – ghosts or spirits – from recognizing the people in this, the "material world."
And about traveling on All Hallows E'en. If you hiked from 11:00 p.m. until midnight, your had to be careful. If your candle kept burning, that was a good omen. (The person holding the candle would be safe in the upcoming winter "season of darkness.") But if your candle went out, "the omen was bad indeed." (The thought was that the candle had been blown out by witches…)
Next comes November 1, which honors all saints and martyrs, "known and unknown." These are special people in the Church. A saint is someone with "an exceptional degree of holiness," while a martyr is someone "killed because of their testimony of Jesus." On the other hand, November 2 – All Souls' Day – honors "all faithful Christians … unknown in the wider fellowship of the church, especially family members and friends.'" In other words, the third day of the Halloween Triduum – November 2, All Souls' Day – remembers the souls of the largely unknown "dear departed." Observing Christians typically remember such relatives, and in many churches the following Sunday service includes a memorial for those who died in the past year.
I've done a lot of posts on Halloween, and you can see more deep background in posts like The Halloween Triduum – 2019, and On Halloween 2020 – "Scariest ever?" (And links therein.)
Incidentally, there were some good reasons why Halloween 2020 was the "scariest ever." (A Halloween Like We've Never Seen!) For one thing, there was the ongoing COVID pandemic, as noted in Halloween: CDC says no trick-or-treating amid COVID. Then there was an economic recession – another one? – not to mention an upcoming presidential election. (We still haven't gotten over that event.) In turn, aside from all that there was a "blue moon:"
With the convergence of a full moon, a blue (Hunter's) Moon, daylight saving time and Saturday celebrations — plus the unprecedented events of this year — Halloween 2020 will truly be one to remember.
By the way, to say something happens "once in a blue moon" just means it happens rarely. And here's hoping a presidential election like the one in 2020 will be equally rare. (Or better yet, never happen again.) And while we're wishing – and thinking outside the box – here's hoping that the election after this one will feature civilized discourse and an exchange of thoughtful views, not name-calling, ad hominem attacks, and especially not personal physical violence.
And yes, I am naive, but then so was Jesus. I'm sure He hoped that 2,000 years after He made His Ultimate Sacrifice, we'd all be getting along a lot better than we are now…
Happy Halloween!
* * * *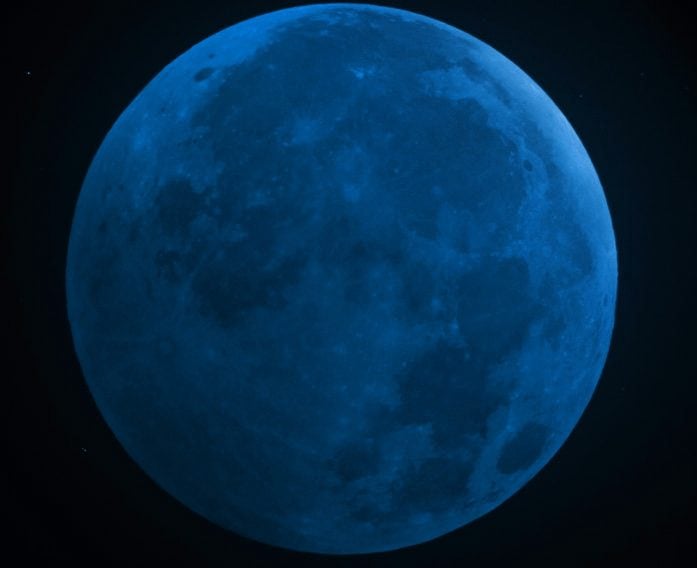 * * * *
The upper image is courtesy of Good Samaritan Image – Image Results.
Re: Book of Common Prayer. At page 339.
The full "box" link is to Thinking Outside the Box | HuffPost Life:
Thinking outside the box" refers to taking an imaginative approach to solve a problem, as opposed to a rigid, unyielding method that calls to mind a square box. In other words, thinking outside the box is often counterintuitive. Each problem is unique and often can't be anticipated or tackled with prescribed methods.
Which is pretty much a major theme of this blog…
A note on Luke 12:48. I capitalized all the "he's and him's" when the quote referred to God. The original used lower case.
Re: Once in a blue moon: A term "something of a misnomer, because an actual blue moon – that is, the appearance of a second full moon in the same calendar month – occurs once every 32 months or so. Further, the moon can appear blue in color at any time, depending on weather conditions."
The lower image is courtesy of Blue Moon Image – Image Results.
* * * *