* * * *
Welcome to "read the Bible – expand your mind:"
This blog has four main themes. The first is that God will accept anyone. (See John 6:37.) The second is that God wants us all to live lives of abundance. (John 10:10.) The third is that God wants us all to do even greater miracles than Jesus. (John 14:12.) The fourth – and most often overlooked – is that Jesus wants us all to read the Bible with an open mind. See Luke 24:45: "Then He" – Jesus – "opened their minds so they could understand the Scriptures."
And this thought ties them together:
The best way to live abundantly and do greater miracles than Jesus is: Read, study and apply the Bible with an open mind. For more see the notes or – to expand your mind – see the Intro.
In the meantime:
I said in my last post – on September 30 – that I had "last posted on July 26, 2021, over two months ago." (See I just got back from "Camino 2021.") Which made me wonder: Why such a big gap between posts? The answer: There wasn't supposed to BE such a big gap.
I had prepared and pretty much written the following post, on St. James – Patron saint of Camino pilgrims – and on the Transfiguration of Jesus. (The last major feast day in August before I left for Paris on the 25th.) But while I'd "prepared and pretty much written the post," I never actually PUBLISHED it. (I was probably too caught up getting ready for the trip, all while wondering if it would actually HAPPEN, because of Covid and its restrictions on travel.)
The month-long trip DID happen, but more to the point, in reviewing this yet-to-be-published post, I thought it sounded pretty good. So even thought it'll be published out of order and "after the fact," I'm offering it for your consideration. Later, down in the notes, I'll make some after-the-fact observations about what actually happened…
* * * *
Last July 25, 2021, was the feast day for James, son of Zebedee. He was one of the 12 Apostles, and tradition says he was the first apostle to be martyred, some time around 44 A.D.
He was a son of Zebedee and Salome, and brother of John the Apostle. He is also called James the Greater … to distinguish him from James, son of Alphaeus.
That's what I noted back in 2019, in St. James – and "my next great pilgrimage." Which is fitting, because this year – 2021 – I have another great pilgrimage on tap. On September 1st I'm scheduled to go back to the Camino de Santiago – for the third time – but with some differences… For one thing, this year I'll be flying into Paris, not Madrid or Lisbon. For another I'll be hiking as part of a group of four. And finally, this year I'll hike over the Pyrenees Mountains.
Incidentally, that's the same section of the Camino where the Martin Sheen character's son died in the 2010 film, The Way. The central premise of the film is that an old, out of shape Beverly Hills eye doctor "goes to France following the death of his adult son, Daniel, killed in the Pyrenees during a storm while walking the Camino de Santiago (the Way of St. James), a Christian pilgrimage route."
As if that wasn't enough to give a reasonable person second thoughts about hiking over the Pyrenees, there was a recent news story, Human remains found in Pyrenees confirmed as those of missing hiker Esther Dingley.
"Ms Dingley, 37, had been walking solo in the mountains near the Spanish and French border and was last seen on Nov 22 last year." The story added that there was "no sign of equipment or clothing in the immediate area … and the details of what happened and where still remain unknown." Which is scary, but on the other hand, I won't be hiking alone…
And once I do get over the Pyrenees I'll be entering Spain – for the third time since 2017. And people in Spain take St. James the Pilgrim – he's the patron saint of all pilgrims – very seriously. See for example Feast of Saint James the Apostle in Spain – Time and Date:
Many people in Spain celebrate the life and deeds of James, son of Zebedee, on Saint James' Day (Santiago Apostol), which is on July 25. Saint James was one of Jesus' first disciples. Some Christians believe that his remains are buried in Santiago de Compostela in Spain.
You can read more about this saint in 2014's "St. James the Greater," and 2016's On St. James, Steinbeck, and sluts. (And others, listed in the notes.) But there is one thing about a pilgrimage that should be noted: If it's a good one, you'll find yourself transformed.
Which brings up the Transfiguration of Jesus.
That's the New Testament episode where Jesus is "transfigured and becomes radiant in glory upon a mountain." (See the connection?) I've written about this event in Transfiguration – 2020, The Transfiguration of Jesus – 2016, and in 2015, Transfiguration – The Greatest Miracle in the World. And that feast day was last August 6.
The 2020 post led off with a photo of an empty interstate, looking to a sky-scrapered city skyline, captioned, "The Coronavirus – A 'Blessing In Disguise For Humanity,' and maybe a metamorphosis?" Along with a note that we were "now in Week 21 of the COVID-19 pandemic." (We're now in week 75 or so, per my calculations.*) The key point: That "in the current plague we are surely going through a metamorphosis." Or a change in circumstance that could seem, "to many, to have occurred by supernatural means."
In other words, maybe God was and is trying to tell us something.
In further words, in the Transfiguration both Jesus and His disciples had to go through "a pivotal moment." A moment in which Jesus met with Moses and Elijah, but which was also terrifying to Peter. (See Mark 9:6 "For they were all so terrified that Peter did not know what else to say.") But despite Peter's terror, this was a point "where human nature meets God: the meeting place for the temporal and the eternal, with Jesus himself as the connecting point."
And you could say the same thing about COVID-19. It too is terrifying, but it could also be another moment "where human nature meets God." It could be a moment where we turn on each other and start "Finger-Pointing," or it could be a moment where we work together and overcome the challenge in the way God wants us to. And it could just be – if we play our cards right – where we can reconnect with Jesus in a way we couldn't have before.
Unfortunately, there are signs that in this crisis we are being "weighed in the balances and found wanting." (In other words, we seem to be ending up like Belshazzar, in Daniel, Chapter 5.) Or we could be "transformed." And to continue that thought, to be transfigured – as Jesus was – is to experience a change in form or appearance, that is, a metamorphosis.
The term is also defined as to experience an exalting, glorifying or spiritual change. And one example of such a metamorphosis is the "transformation of a maggot into an adult fly." Or for a better example, we could change from a caterpillar into a butterfly. So – in our journey through the present Covid crisis – do we want to remain maggots or get turned into butterflies? (To mix a few metaphors.) And such transformation is pretty much what the Faith is all about.
See for example Bible Verses about Transformed into His Likeness, which includes 2d Corinthians 3:18, which says that we true Christians "are being transformed into the same image from glory to glory, just as by the Spirit of the Lord." Or Philippians 3:21, which talks of the power of Jesus, "who will transform our lowly body that it may be conformed to His glorious body." Or 2 Corinthians 5:17: "Therefore, if anyone is in Christ, he is a new creation."
Which is also what could happen to those who go on a pilgrimage. (Like hiking over the Pyrenees part of the Camino de Santiago?) In such a journey "a person goes in search of new or expanded meaning about their self, others, nature, or a higher good, through the experience. It can lead to a personal transformation, after which the pilgrim returns to their daily life."
Or as it says in Psalm 84:5, "Happy are the people whose strength is in you! whose hearts are set on the pilgrim's way." So maybe when I get back I'll find that we Americans are no longer "weighed in the balances and found wanting." (As shown below.) Maybe the country will experience such a transfiguration that God will say, "Well done, good and faithful servant(s)!"
It COULD happen…
* * * *
* * * *
Well, it didn't happen. It seems our country is still "weighed in the balances and found wanting." And a lot of it has to do with Facebook and the amount of tribal political warfare that goes on there. So maybe that six-hour Facebook outage last October 4 was a sign from God. Instead of saying "well done, good and faithful servant(s)," He might have been telling us, "Stop obsessing with Facebook, and stop putting all that garbage in it!"
(Of course, I'm just guessing, you understand…*)
* * * *
The upper image is courtesy of Camino Hiking Over Pyrenees – Image Results. With a page and caption, "The walk to Roncesvalles, Spain, from St Jean Pied de Port took us over the Pyrenees. Blessed with good weather…"
Re: 2016's On St. James, Steinbeck, and sluts. The "sluts" part of the post noted that the word had a different meaning for Robert Louis Stevenson in 1879, when he published Travels with a Donkey in the Cévennes. (For more on the book see also the prior post, On donkey travel – and sluts.) Back then "slut meant roughly what one sense of slattern means today: a slovenly, untidy woman or girl." It could also refer to a kitchen maid.
Re: Weeks of Covid. As of Monday, October 11, 2021, we are now in the 83d full week of Covid, 20 months and three weeks, according to my calculations. See On St. Philip and St. James – May, 2020. To me, "the pandemic hit full swing – the 'stuff really hit the fan' – back on Thursday, March 12," when the ACC basketball tournament got cancelled, along with other major sports. "So my definition of the 'First Full Week of the Covid-19 Pandemic' has it starting on Sunday, March 15 and ending on Saturday the 21st."
The Psalm 84:5 translation is from my mother's Book of Common Prayer, "Proposed," and published in 1977. (As certified by Charles Mortimer Guilbert.) My mother died in 1984, and for a time it was used by my late wife Karen, who died in 2006. I now use it on a daily basis, for the psalms in each day's set of Daily Office Readings. (Currently Year One, Volume 2.)
The lower image is courtesy of the Belshazzar link to the Wikipedia article. The caption: "Rembrandt, Belshazzar's Feast, 1635, (National Gallery, London). The message is written in vertical lines starting at the top right corner, with 'upharsin' taking two lines."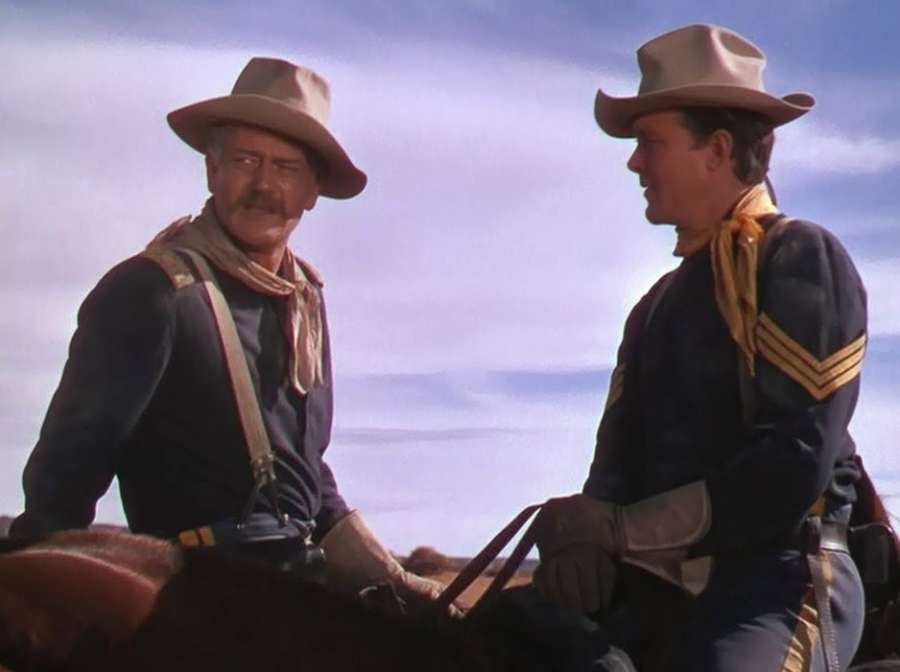 And the quote "just guessing, you understand," came from She Wore a Yellow Ribbon (1949) Script – TV & Movie Transcripts. As spoken by Ben Johnson as Sergeant Tyree, talking to John Wayne as Captain Nathan Brittles. Image courtesy of She Wore A Yellow Ribbon – Image Results. (My other favorite Sgt. Tyree quote is, "That ain't my department, sir!"
* * * *
As noted in the opening blurb, this blog has four main themes. The first is that God will accept anyone. (John 6:37, with the added-on phrase, "Anyone who comes to Him.") The second is that God wants us to live abundantly. (John 10:10.) The third is that Jesus expects us to do greater miracles than He did. (John 14:12). A fourth theme: The only way to do all that is read the Bible with an open mind. See the Wikipedia article, as to its opposite:
…closed-mindedness, or an unwillingness to consider new ideas, can result from the brain's natural dislike for ambiguity. According to this view, the brain has a "search and destroy" relationship with ambiguity and evidence contradictory to people's current beliefs tends to make them uncomfortable… Research confirms that belief-discrepant-closed-minded persons have less tolerance for cognitive inconsistency…
See also Splitting (psychology) – Wikipedia, on the phenomenon also called black-and-white thinking, "the failure in a person's thinking to bring together the dichotomy of both positive and negative qualities of the self and others into a cohesive, realistic whole. It is a common defense mechanism. The individual tends to think in extremes (i.e., an individual's actions and motivations are all good or all bad with no middle ground).
See also Definition of CLOSED-MINDED – Merriam-Webster, "not willing to consider different ideas or opinions : having or showing a closed mind." As used in a sentence: "He's becoming increasingly closed-minded in his old age." Other articles on the topic include The Difference Between Open-Minded and Closed-Minded People, and The Closed Mind | Psychology Today.
So anyway, in plain words this blog takes issue with boot-camp Christians. The Biblical literalists who never go "beyond the fundamentals." But the Bible offers so much more than their narrow reading can offer… (Unless you want to stay a Bible buck private all your life…) Now about "Boot-camp Christians." See for example, Conservative Christian – "Career buck private?" The gist of that post is that starting the Bible is like Army Basic Training. You begin by"learning the fundamentals." But after boot camp, you move on to Advanced Individual Training." And as noted in the opening blurb, this blog has four main themes. The first is that God will accept anyone. (John 6:37, with the added, "Anyone who comes to Him.") The second is that God wants us to live abundantly. (John 10:10.) The third is that we should do greater miracles than Jesus. (John 14:12). A fourth theme: The only way to do all that is read the Bible with an open mind…
For more about "Boot-camp Christians" see Conservative Christian – "Career buck private?" And as noted in "Buck private," I'd previously said the theme of this blog was that if you really want to be all that you can be, you need to go on and explore the "mystical side of Bible reading.*" In other words, exploring the mystical side of the Bible helps you "be all that you can be." See Slogans of the U.S. Army – Wikipedia, re: the recruiting slogan from 1980 to 2001.  The image below is courtesy of: "toywonders.com/productcart/pc/catalog/aw30.jpg." * 
Re: "mystical."  As originally used, mysticism "referred to the Biblical liturgical, spiritual, and contemplative dimensions of early and medieval Christianity."  See Mysticism – Wikipedia, and the post On originalism.  ("That's what the Bible was originally about!")
For an explanation of the Daily Office – where "Dorscribe" came from – see What's a DOR?