You call this a pilgrimage?  I call it a pile of ^%$# rocks!  (Other people call it the Chilkoot Trail...)
*   *   *   *
Sunday, August 28 – I said this a year ago, but once again "I'm back in the saddle again." (Not unlike Gene Autry – "Singing Cowboy" – at left.)
I posted the first "Back in the saddle" after last year's canoe trip on the Columbia River.  That four-day canoe trip took a total of three weeks to accomplish, from August 10 to August 27, 2015.
This year's pilgrimage – including 12 days canoeing on the Yukon River – is now in its sixth week.  (I flew out to Salt Lake City on July 23, and am "fixin'" to fly back tomorrow, to the ATL.  Also known herein as "God's Country…")
For one description of this latest pilgrimage, see "Naked lady on the Yukon."  (From my companion blog.)  It noted that last July 26 – a Tuesday – my brother and I started the drive from Utah to Whitehorse, Yukon Territory.  Four days later – on Friday, July 29 – we met up with my nephew, fresh from the Army.  From there we drove to Skagway, and the following Monday – August 1 – we started a four-day hike on the Chilkoot Trail.  (The "meanest 33 miles in history.")
Once we three finished the "Chilkoot &$%# Trail" – as seen at the top of the page – my nephew flew back to Philadelphia, and from there to Penn State University, for fall classes:
That left two old geezers – my brother, 70, and me, just turned 65 – to paddle our canoes "up*" the Yukon River.  From Whitehorse  to Dawson City, that's a distance of 440 miles, and we covered it in 12 days.  (Not counting the full day we took off on Sunday, August 14, in beautiful Carmacks, Yukon Territory, to rest and refit.)
So it's been a busy several weeks.  And – during most of that time – I haven't had a chance to write much on this blog.  But my last post – The Transfiguration of Jesus – 2016, which included the image at right – did note that I was "on a pilgrimage of my own."
It also noted, "Assuming I survive all that" – that being the Chilkoot and Yukon ventures – "I should be back in business some time after August 29."
It's now Sunday, August 28, and I'm "back in business."
On that note, a word on "reading the Bible on a daily basis."  Not only did I have no time or opportunity to write on this blog, neither did I have time to do my daily Bible readings.  That is, neither on the Chilkoot Trail nor on the "mighty Yukon River" did I have the time to do my Daily Office.  (That's where the "DO" in the name "Dorscribe" comes from.  See THE SCRIBE.)
And aside from no time, there just wasn't room to pack either a Bible or the laptop I've been using since leaving home.  (Using the Satucket website instead of the actual books at home.)  
Which meant that beginning on Sunday, August 21 – the day after our two canoes landed at Dawson City, Yukon Territory, at left – I had some catching up to do.
So this post will focus on two things, to help bring us up to game speed:  The spiritual side of pilgrimages like the one – or two – that I just finished, and catching up on the gap in Bible readings between August 1 and 21.
As to why an otherwise seemingly-sane 65-year-old would leave the comforts of home for the "harsh northland" – as Jack London might call it – see "I pity the fool!"
That post noted Ralph Waldo Emerson: "Whoso would be a man, must be a nonconformist."  I freely translated that to:  "I pity the fool who doesn't do pilgrimages and otherwise push the envelope, even at the advance stage of his life."
It also quoted Travels with a Donkey in the Cévennes, by Robert Louis Stevenson:
Alas, as we get up in life, and are more preoccupied with our affairs, even a holiday is a thing that must be worked for.  To hold a pack upon a pack-saddle against a gale out of the freezing north is no high industry, but it is one that serves to occupy and compose the mind.  And when the present is so exacting, who can annoy himself about the future?
In much the same way, nothing can "occupy and compose the mind" so much as trying to walk the Chilkoot Trail. (Especially with only one good eye and thus no depth perception, as illustrated at right.)  Or for that matter, canoeing 440 miles "down" the Yukon River…
Which brings up a moment during that river pilgrimage.
At that moment I thought to myself, "I wonder how the Don-and-Hillary show is going?"  Then I asked myself, "Who is Don again?"  Which itself is a very good reason for a pilgrimage.
I'll be writing more on the Chilkoot and Yukon experiences in later posts, but now it's time to address that gap in the daily Bible readings.
On August 1 – when we started on the Chilkoot – the non-psalm Bible readings included Judges 6:25-40; Acts 2:37-47; John 1:1-18.  The "Judges" part was about Gideon, who was a "judge of the Israelites who wins a decisive victory over a Midianite army with a vast numerical disadvantage, leading a troop of 300 men."  The reading from John started with the well-known, "In the beginning was the Word, and the Word was with God, and the Word was God."
By Thursday, August 11, "Judges" had moved to the story of Samson. (And Delilah.)  As Wikipedia noted, Samson was blessed with supernatural strength.  However, "Samson had two vulnerabilities – his attraction to untrustworthy women and his hair, without which he was powerless.  These vulnerabilities ultimately proved fatal for him."
From which story an object lesson or two might be gleaned…
But then on Thursday, August 20, the Old Testament readings switched from Judges to the Book of Job.  I covered that perplexing book in On Job, the not-so-patient and On "Job the not patient" – REDUX.
One key point from the "Redux" post:  No matter how hard we may try, our limited human minds are simply incapable of ever fully understanding God:
We are simply not up to the task, not wired for such an overload.  We are no more prepared to comprehend [God] than – to make use of a memorable example – cats are prepared to study calculus.  It's just not in our nature.
Which may have been why God "chose to bring Jesus into the world."  Without that image of Jesus as a "finite" human being to focus on, our poor little pea-brains simply couldn't even begin the process of bringing The Force That Created the Universe into any kind of focus at all.
In other words, the main point of the Book of Job seems to be this:  We can never fully either understand or explain "God."  Yet that's just what Job's friends tried to do.  Their solution was to "make a god of their idea of God."  They tried to put God into a "conceptual box."
Which seems to be a fallacy trap that many people fall into, "even to this day."  They give the impression that their limited minds are capable of not only fully understanding God, but also of telling other people that their interpretation of God is the only valid one.  (And that if you don't believe their version, you will certainly "burn in hell.")
Which is one good reason to go on a pilgrimage, like the one – or two – that I just did.  A good pilgrimage will remind you – sometimes forcibly – that you are not the center of the Universe.
And it may even help by making you ask yourself, "Who is Don again?"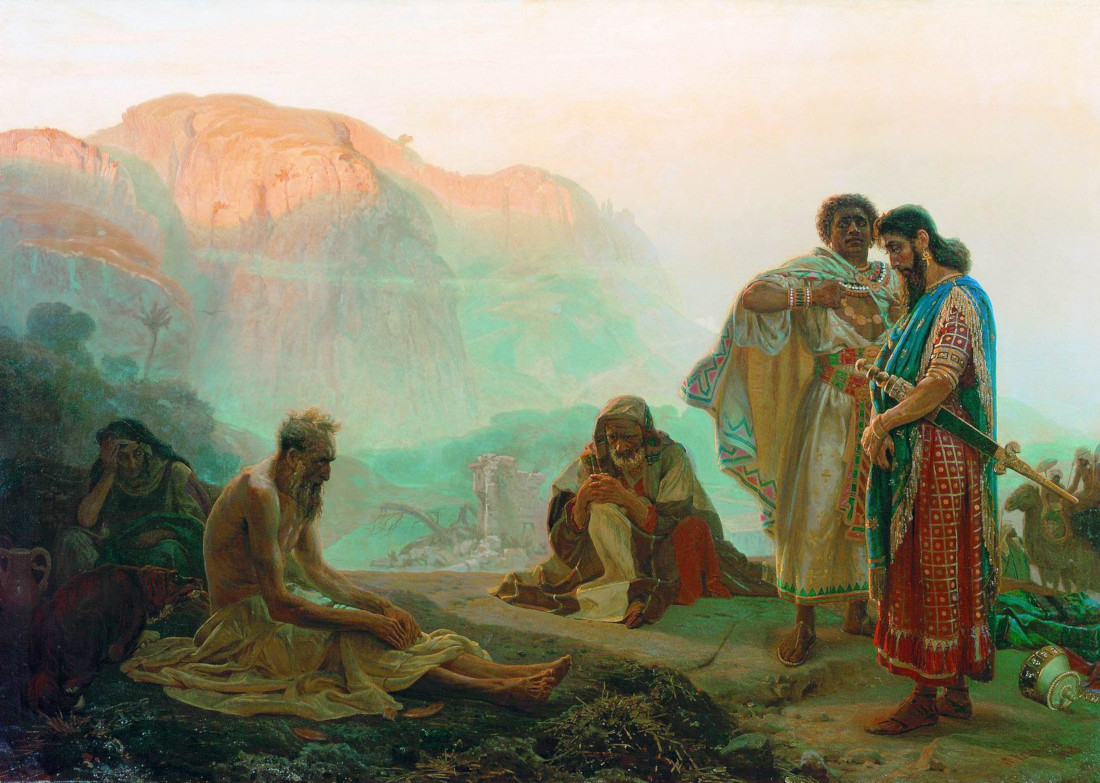 Job – on the left – "and his friends, by Ilya Repin (1869)…"
*   *   *   *
The upper image is from a series of photos I took during the aforementioned "pilgrimages," on the Chilkoot Trail and the Yukon River.
The Gene Autry image is courtesy of  www.americaremembers.com/product/gene-autry-tribute-rifle.  The site offers the "Gene Autry Tribute Rifle," honoring "The Singing Cowboy:" 
Of all the cowboys who rode the range during the golden age of westerns, Gene Autry remains one of the most popular. He starred in more than 90 feature films, and was the first major star to enter television.  In 1937, Gene was ranked as Hollywood's top western star and he remained number one for years…  At a time when the world seemed simpler … when good guys wore white hats and a cowboy's best friend was his horse[, he] was the ultimate hero.
See also Back in the Saddle Again – Wikipedia, the free encyclopedia.
Re: "Game speed."  For an alternate view see NFL Scouting Combine defined by league's need for speed, which among other things involved "different ways to measure players' game speed."
The "depth perception" image is courtesy of lookfordiagnosis.com.
Re: Pilgrimage.  See also Pilgrims and Pilgrimage – University of York.
The lower image is courtesy of Job and His Friends – Ilya Repin – WikiArt.org.  See also Ilya Repin – Wikipedia, on "the most renowned Russian artist of the 19th century, when his position in the world of art was comparable to that of Leo Tolstoy in literature…  His method was the reverse of impressionism.  He produced works slowly and carefully.  They were the result of close and detailed study.  With some of his paintings, he made one hundred or more preliminary sketches.  He was never satisfied with his works, and often painted multiple versions, years apart."