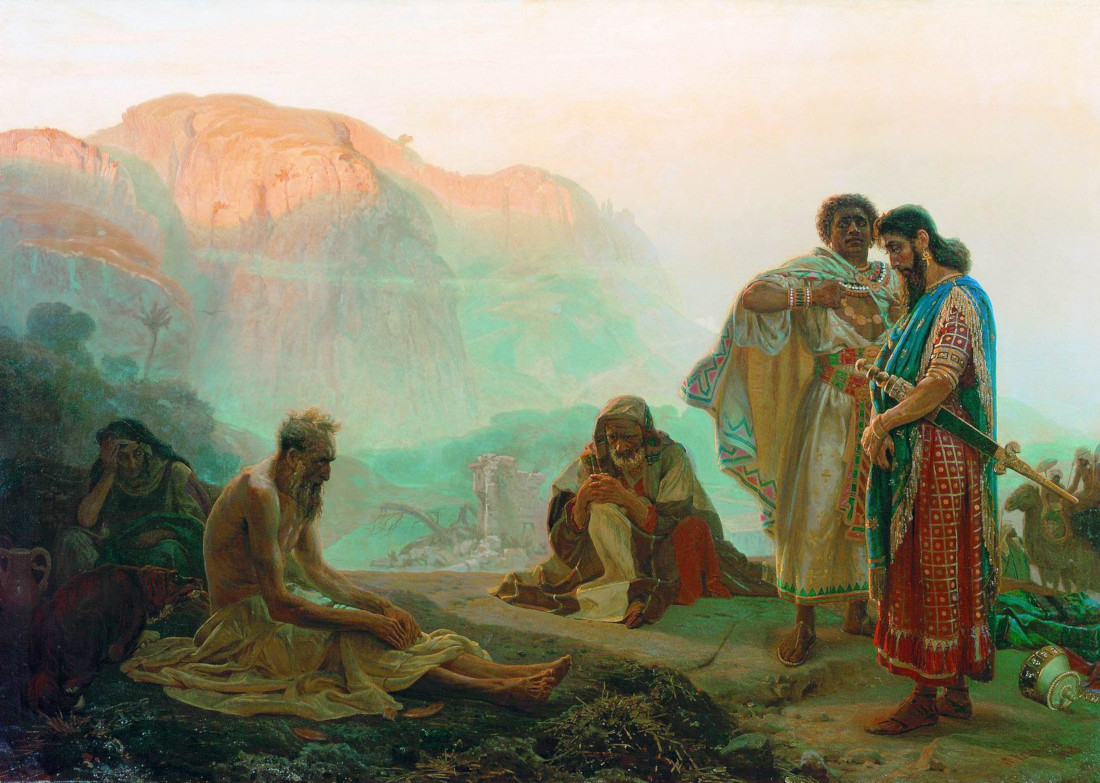 Job and his friends, by Ilya Repin (1869). . .
*   *   *   *
I spend a lot of time driving.  A lot of it I spend visiting Mi Dulce, who lives three counties over.
The point is that to help pass the time I've gotten the habit of listening to "lectures on CD."  I'm now listening to Hebrews, Greeks and Romans:  Foundations of Western Civilization, by Professor Timothy Shutt.  The other point is that in this lecture, Professor Shutt gave the best analysis of the Book of Job I've ever heard "in all my born days."
Some think Job is a great book, but not me.  Alfred, Lord Tennyson loved it; "the greatest poem of ancient and modern times."  But to me it's always been greatly depressing and impossible to understand.  In that spirit I posted Job, the not-so-patient last August, which ended:
For just that reason, guys like John R. W. Stott took issue with literalists who say the Bible should viewed as "inerrant per se."  Instead – he said – the Bible should be viewed as inerrant "in all that it affirms."  As applied to this case, Stott would say that the "plain meaning" of the Book of Job should not be seen as affirming suicide…   But since we're running out of space and time, Stott's views will be explored in a future post.
This then is that "future post…"
The point of Job the not-patient was that there are some parts of the Bible you really don't want to take too literally.  Another case in point is Mark 16:18, part of the Great Commission of Jesus. That's where He said of His disciples, "they will pick up snakes with their hands."  But as noted in Snake-handling, Fundamentalism and suicide, Mark 16:18 is a verse that can definitely be "taken out of context."  (That would be Part I and Part II, with the  "Stumpy" photo below left.)
But to get back to the depressing part of Job… 
Verses 1-22 of Job, Chapter 3 are a good example of passages from the Bible that should both be approached with great caution, and not taken too literally.  Put another way, Job 3:1-22 itself could definitely be taken out of context:
Job opened his mouth and cursed the day of his birth…   "Why did I not perish at birth, and die as I came from the womb [or] hidden away in the ground like a stillborn child, like an infant who never saw the light of day…  Why is light given to those in misery, and life to the bitter of soul, to those who long for death that does not come, who search for it more than for hidden treasure, who are filled with gladness and rejoice when they reach the grave?"
Emphasis added.  Thus as Wikipedia noted, the Book of Job addresses the ongoing theme of "God's justice in the face of human suffering – or simply, 'Why do the righteous suffer?'"  (See also When Bad Things Happen to Good People, a book by Harold S. Kushner.   Or just Google the words "why do bad things happen to good people."  I got some 170,000,000 hits.)
But getting back to Professor Shutt, he noted that Job was written – or at least came to light – just after The (First) Destruction of the Temple.  (I.e., the first time it was destroyed, around 586 B.C., and not to be confused with the second great destruction of the Temple, in 70 A.D.  See  Siege of Jerusalem (AD 70) – Wikipedia, the free encyclopedia.)
Needless to say, the destruction of their Holy of Holies provoked a crisis of faith in the Jewish people.  (Not unlike the one after the Holocaust, 70 years ago.) That in turn led to the question:  How could God let this happen to His Chosen People? 
Or as put above, Why do bad things happen to good people?  To that there are two main answers.  First, God was not who the Hebrews thought He was.  Second: There Is No God at all.  But as Professor Shutt said:
Even in the most hopeless days of the Babylonian exile, though [roughly the 70 years from 605 to 539 B.C.], another answer seems to have been possible, and we find it formulated most powerfully, if not, perhaps, most clearly, in the Book of Job.
That's the conclusion in Track 7, Disc 1, of Hebrews, Greeks and Romans: Foundations of Western Civilization, and/or pages 24-27 of the Course Guide ("CG").
But wait, there's more!
As Professor Shutt put it, God's covenant started out with the Hebrews as His Chosen People, which carried with it an implied promise.  (If not an "implied contract.")  That promise – quite simply – was "obey and prosper."  But the Job examines what happens when good people do "obey God" and don't prosper.  The short answer – the one given repeatedly by Job's friends – is that he had to have done something wrong.  (A fallacy that continues "even to this day.")
Put another way, many a person thinks that if he or she lives a good life, God owes me!   
But as we all know, life doesn't work that way.  No one has found the magic formula to change God into a "magic genie" who will cater to our every whim.  (See "O Lord won't you buy me a Mercedes Benz," by Janis Joplin, at left.)
The upshot of that is that – for better or worse – we are simply incapable of ever fully understanding God.  As Professor Shutt put it, we can't "put God in a box."  But that's exactly what many people still try to do.
Even though we can't make sense of it, there's a presence out there, somewhere.  A presence that we can "feel," even in our darkest hours.  "We can't put it in a box, we can't tie it up in a ribbon," as Shutt put it, but it's there.  Yet many people still try to put God "in a box" or "tie Him up in a ribbon."  We always tend to commit the error of "making a god of our idea of God."
And that's the ultimate lesson of the Book of Job:  "We can make a god of our idea of God."  We keep trying to conceptualize God.  We are always trying to make some sense of "Him" (anthropomorphism), which is of course only right and natural.  But the key to remember – as Shutt noted – is that "we have to sit on the conceptualizations lightly."
All of which may be why God chose to bring Jesus into the world.  Because without that image of a "finite" human being to focus on, our poor little pea-brains simply couldn't even begin the process of bringing The Force That Created the Universe into any kind of focus at all.
Shutt noted that in approaching God, it's all "about contact and experience."  It's not about finding persuasive "courtroom evidence."  It's not about finding the actual Noah's Ark in Turkey to prove – once and for all – that God does indeed exist.  And it's not about finding the one true passage from the Bible that will bowl over all doubt.  The covenant – as Shutt put it – is "the face of our interaction with God."  In other words, God can't be "proven," only "experienced."
So since it all comes down to personal experience – but mostly just because our minds are so limited – "we cannot ever fully know the nature of God."  We can never fully either understand or explain "God."  Yet that's just what Job's friends did.  Their solution was to "make a god of their idea of God." 
They tried to put God into a "conceptual box."
So in Shutt's final analysis, "God's answer to Job is, again, no answer."  Which is just another way of saying that – in that final analysis – we are simply not up to the task of fully understanding God:
We are simply not up to the task, not wired for such an overload.  We are no more prepared to comprehend an answer than – to make use of a memorable example – cats are prepared to study calculus.  It's just not in our nature.
But that doesn't mean we have nothing to go on.  Even if we can never fully understand God, we can – from time to time – " feel His presence."  We can have that experience of God.
Our view of the tree in the yard is not the result of logical calculation…  So too in a way, and so too surprisingly, our sense of God's presence, should we feel it.  Even if we obey and don't prosper, the covenant somehow seems still to hold.  Or so in any case the ancient Hebrews seem to have decided.
Or as Isaac Asimov put it, "At the end of God's speech, Job realizes divine omnipotence and understands the folly or trying to penetrate God's plan and purposes with the limited mind of a human being." (487)   And that's a lesson we need to keep on learning…
*   *   *   *
"Job and his friends…"
*   *   *   *
The upper image is courtesy of Job and His Friends – Ilya Repin – WikiArt.org.  See also Ilya Repin – Wikipedia, on "the most renowned Russian artist of the 19th century, when his position in the world of art was comparable to that of Leo Tolstoy in literature…  His method was the reverse of impressionism.  He produced works slowly and carefully.  They were the result of close and detailed study.  With some of his paintings, he made one hundred or more preliminary sketches.  He was never satisfied with his works, and often painted multiple versions, years apart."
As to the "redux" part of the post-title.  It's an allusion to the 1971 book by John Updike, Rabbit Redux.  This was the second of five "Rabbit" books about an aging high-school basketball star – Harry "Rabbit" Angstrom – as he went through five decades of life.  The series began with Rabbit, Run (1960), when Harry was 26.  The five books feature "recurring themes of guilt, sex, and death."  See, Wikipedia.  The article added that the word redux means "brought back" or "restored," and that other works of literature with the title-word include John Dryden's Astraea Redux (1662), and Anthony Trollope's Phineas Redux (1873).  Wikipedia also noted, "Rabbit Redux led to a redux in popularity of the word redux," for example, in Rabbit At Rest itself.  Updike had Harry Angstrom notice a story in the local paper, headlined "Circus Redux:"
He hates that word, you see it everywhere, and he doesn't know how to pronounce it.   Like arbitrageur and perestroika…"
Re: Professor Shutt.  See also Tim Shutt · Kenyon College.
Re: the Great Commission of Jesus.  "According to some critics, in Mark"  –  the first Gospel to be written  –  "Jesus never speaks with his disciples after his resurrection.  They argue that the original Gospel of Mark ends at verse Mark 16:8 with the women leaving the tomb (see Mark 16)."
Re: bad things happening to good people.  See also When Bad Things Happen to Good People – Wikipedia, the free encyclopedia, which noted: "Harold Kushner, a Conservative rabbi"  addressed "one of the principal problems of theodicy, the conundrum of why, if the universe was created and is governed by a God who is of a good and loving nature, there is nonetheless so much suffering and pain in it – essentially, the evidential problem of evil."  Note also that in the NRSV, Job 3:22 speaks of those who are bitter of soul, and "rejoice exceedingly, and are glad when they find the grave…"
Re: Professor Shutt's conclusion on Job.  See pages 24 and 25 of the Course Guide.
The Janis Joplin photo is courtesy of The story behind Janis Joplin's "Mercedes Benz," which noted of the original recording session:  "she begins to sing, exercising soulful control over her enormous, whiskey-soaked voice…  'Mercedes Benz' is a lonely blues tune about the illusory happiness promised (but rarely delivered) by the pursuit of worldly goods…"
The "God in a box" image is courtesy of www.bransonparler.com/blog/what-we-talk-about-when-we-say-you-can't-put-God-in-a-box.  See also Relevant Bible Teaching – Don't Put God in a Box.
As to Isaac Asimov on Job, see Asimov's Guide to the Bible (Two Volumes in One),  Avenel Books (1981), beginning on page 474, up to the "not-so-patient" quote on page 480, on to the "folly or trying to penetrate God's plan and purposes with the limited mind of a human being," at page 487.  
The lower image is courtesy of Bildad – Wikipedia, the free encyclopedia:  Bildad, from the Hebrew meaning "Bel has loved, was one of Job's three friends who visited him Book of Job:
He was a descendant of Shuah, son of Abraham and Keturah (Genesis 25:1), whose family lived in the deserts of Arabia, or a resident of the district.  In speaking with Job, his intent was consolation, but he became an accuser, asking Job what he has done to deserve God's wrath.
See also Job and his three friends Drawn by Gustave Dore – Getty images.
For more on this topic, see When Bad Things Happen to Good People – My Jewish Learning.
*   *   *   *