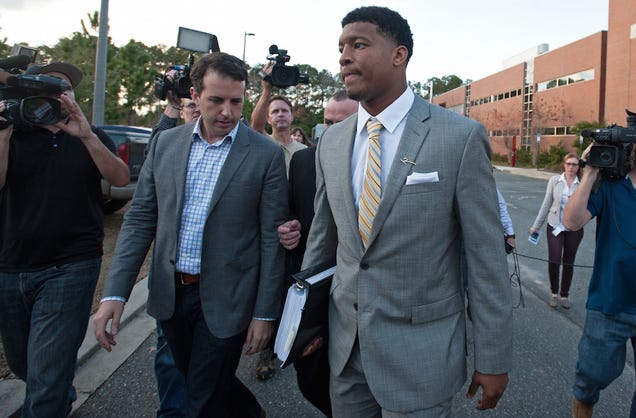 Jameis Winston  …   On the long road to redemption?
I ended Jameis Winston's future (Part I) with a discussion of the article Jameis Winston Is Not A Victim.  That post discussed the "Not A Victim" writer's saying the odds of being falsely accused of rape "are basically the same as the odds that you or someone in your family will be struck by lightning."   This post will start with that writer's chastising Winston for saying the "only thing as vicious as rape is falsely accusing someone of rape."  (Note the "cottage industry of Jameis-bashing" mentioned in "Part I.")
Note also that Winston said these words at the end of a long "student conduct" hearing, which itself was preceded a year before by a criminal investigation by State Attorney Willie Meggs.
See Jameis Winston's hearing concludes; ruling expected in 2-3 weeks, which noted, "Over two days and approximately 12 hours, former Florida Supreme Court [Chief Justice] Major Harding heard testimony from witnesses presented by the university, Winston and the woman.  Armed with that and voluminous records provided by FSU … Harding now must decide if Winston is responsible of any of four violations of the code of conduct."  (He was cleared.)
Leaving aside the heat of the moment factor, Not A Victim said "Winston's statement is truly remarkable in its self-victimization."  It noted that despite "very good odds that Winston is guilty," he is "projected as a first round draft pick in the NFL draft, where he'd be guaranteed millions of dollars."  Thus the writer concluded, "I ask you, is it fair for Jameis Winston to draw an equivalence between himself and a rape victim?"
Let's start off with the fact that under Florida law, such rape is a first-degree felony punishable by up to 15 years prison.  The judge is required by law to impose a minimum sentence of 34½ months in prison, and must also impose "sex offender probation:"
A person convicted of Sexual Battery or Rape would not only be placed on sex offender probation, but would also be declared a sexual offender…   As a result, they would be required to comply with sexual offender registration laws in Florida and throughout the United States for the remainder of their lives.
See Florida Sex Crimes: Sexual Battery or Rape.  So the fact that Winston didn't end up in prison for 15 years, and have to spend the rest of his life after that trying to comply with the mandates of  sex-offender probation apparently didn't factor into the Not A Victim equation.
But  what does the Bible say?  (Remember, we're trying to make this a Bible-teaching moment!)
For one thing, there's Number Nine of the Ten Commandments.  See Thou shalt not bear false witness against thy neighbor – Wikipedia, the free encyclopedia:
The Hebrew Bible contains a number prohibitions of false witness, lying, spreading false reports, etc…  [W]here false testimony was suspected, the judges were to make a thorough investigation, and if false testimony were proven, the false witness was to receive the punishment he had intended to bring on the person falsely accused.  For example, since murder was a capital crime, giving false testimony in a murder case was subject to the death penalty.  Those eager to receive or listen to false testimony were also subject to punishment.
Emphasis added.  (Which raises the question:  How many people "eager to listen to and condemn" – based son what they hear in the media – now face such punishment?)
Note that rape itself isn't mentioned in the Ten Commandments.  (Possibly because in Bible times women were treated as chattel, but that too is a "whole 'nother subject.")
Note too the "equal punishment clause" was based on Deuteronomy 19:16-21:
If a malicious witness comes forward to accuse someone of wrongdoing … the judges shall make a thorough inquiry.  If the witness is a false witness … then you shall do to the false witness just as the false witness had meant to do to the other…    Show no pity…
(Emphasis added.)   Accordingly, reasonable people could say Winston was eminently correct in claiming that being falsely accused is as bad as rape itself.   "The Bible says so."  Under the code of the Bible, the two crimes were punished equally.  The "false accuser" got the same punishment that he – or she –  intended to bring on the person falsely accused.
So, we were talking about the four main themes of the Bible:  creation, sin, judgment and redemption.  We covered the creation and sin, but we're not quite finished with judgment.
On that note, lots of people got a big kick out of Winston and his team being humiliated in the first round of the college football playoffs on January 1st.   See for example The internet explodes with hilarious Jameis Winston memes, and also Jameis Winston May Have Lost The Rose Bowl, But His Memes Won the Internet.  The latter site noted, "The talented, troublesome Florida State star was front and center in his team's College Football Playoff meltdown at the Rose Bowl on New Year's Day."
On the other hand, there are still those who think Jameis is a person worth saving…
On that note – and in case you were wondering – I'm biased.
My writings on FSU football make up an entire category:  "God's Favorite Team".  I've covered Winston's legal troubles in prior posts like On "guilty until proven innocent".  I've also covered the current cult of vigilante justice in  "Gone Girl" movie review and Media Frenzy.
For better or worse, Jameis Winston is larger than life.  And so, for better or worse he has a chance to be a great role model in the future.  For that to happen, there must be redemption.
I happen to believe he'll work out that redemption, in the fullness of time.
He's a talented young man, full of testosterone as young men tend to be.  He's brash, cocky and full of himself, which of course annoys the hell out of the losers among us.  And he has that rare and highly marketable ability to bring out the best in his teammates on the football field.
And so, how might that redemption occur?  It could have happened by Jameis staying at FSU, leading an exemplary life over the next year and beyond, leading his team to another national title, but that never was likely.  He has now "declared for the NFL," and may end up drafted by the Tampa Bay Buccaneers.  (They have the first-round pick.)
That – in my humble opinion – would be a perfect fit for both parties.  (Reasons include but aren't limited to the fact his on-field exploits could again be described by the dulcet tones of Gene Deckerhoff.  He does the radio play-by-play for both FSU football and the Buccaneers.)   Then too the 2014 Bucs were "on the cusp."  Despite going 2-14, they were in most games.  They lost four games by seven points or less, five by three points or less, and one by one point.
Winston would almost certainly help put the Bucs "over the hump."
But wait!  Winning alone still wouldn't convince the doubters and haters among us…
For that to happen Jameis would have to give back to the community somehow.
It could be something like Payton Walks!  See also FSU helps fan Payton Poulin walk – Tallahassee Democrat and Florida State fan Payton Poulin walks with, inspires Noles.
Those articles were published in December 2014, a day or two before the Rose Bowl debacle that had so many cackling with glee.  It seems there was a young man from St. Cloud, who overcame tremendous obstacles just to get admitted to Florida State.  As a child he was expected to "be a vegetable" or die at a young age.  But he got into FSU, and once there he was adopted by the team; "The Florida State University freshman loves his job cheering on his family.  'I love the team because they accepted me as a brother,' said Poulin."
The "Payton Walks" link shows an "emotional scene at the end of practice as honorary Seminole Payton Poulin was walked from the 50 yard line to the end zone."  And there, in the middle of the crowd of football players stands the tall Number 5, Jameis Winston.
I wonder why there were no cackling internet "memes" about that?
The upper image is courtesy of article Jameis Winston Is Not A Victim.  
Re: Gene Deckerhoff.  See Gene Deckerhoff (genedeckerhoff.com), and Gene Deckerhoff – Wikipedia, the free encyclopedia.   And for a break from the current FSU drama and a glance back at better times, see also 2013 FSU National Title Final Radio Call – Gene Deckerhoff – YouTube.
The lower image is courtesy of Florida State fan Payton Poulin walks with, inspires Noles, with the caption:  "Florida State fan Payton Poulin, who according to media reports suffers from schizencephaly, which is similar to cerebral palsy, walked dozens of yards with the team after Tuesday's practice. Coach Jimbo Fisher spoke about the touching moment afterward."   The full video shows Payton walking with Jameis Winston holding him up by his left arm. 
Going back to the topic of false accusations discussed in "Part I," see also Community of the Wrongly Accused: Oregon Coach Mark Helfrich Applauded For Disciplining Players Who Taunted Jameis Winston, which noted:  "Because of the sexual assault accusation, Winston has been the whipping boy of the media (you may recall Heather Cox of ESPN's disgraceful 'gotcha!' moment; Clay Travis's disgraceful rush to judgment; and Geraldo's cherry-picking facts)."
On the matter of such "prophecies," see New American Standard Bible:  "When a prophet speaks in the name of the LORD, if the thing does not come about or come true, that is the thing which the LORD has not spoken.  The prophet has spoken it presumptuously; you shall not be afraid of him."  But see also Deuteronomy 18:20:  "But a prophet who presumes to speak in my name anything I have not commanded, or a prophet who speaks in the name of other gods, is to be put to death."
So this is where I say – along with Ben Johnson as Sergeant Tyree in She Wore a Yellow Ribbon – "Of course I'm just guessin' you understand…"
Finally, note the story in the USA TODAY: Latest World and US News – USATODAY.com, for Friday, January 9, 2015, Armour: Hernandez saga a warning athletes should heed.  The story begins, "The Aaron Hernandez trial should be required viewing for every athlete who thinks the rules don't apply." Ms. Armour did mention Winston, but relegated him to a virtual footnote:
What incentive was there for Jameis Winston to act like an adult when Florida State coach Jimbo Fisher was there to defend him at every turn?   Marshall Henderson's boorishness was tolerated so long as he was keeping Ole Miss in contention for a coveted NCAA tournament bid.  And on and on and on it goes…
Who knows?  It may be progress when Jameis-bashing is moved from front-page news to being sandwiched between Ray Rice, Greg Hardy, Adrian Peterson and Johnny Manziel on the one hand, and Marshall Henderson on the other.  Armour also described Cam Newton's post-college-football saga:  "Newton would leave Florida … and eventually wind up at Auburn, where he won the Heisman Trophy and the national title.  He would be the No. 1 pick in the 2011 NFL draft and has been, by all accounts, a model citizen."  For more see Nancy Armour – USA Today.
The same issue had another story on 1-C, Ohio State, Oregon recover quickly after major NCAA sanctions.  See Dan Wolken – USATODAY.  It may be that – for whichever team wins the national title – it's already started!  On a possibly related note see Enough Celebrity Bashing! Psychology Today, with the subtitle, "Let's stop holding everyone but ourselves to impossible standards."