St. Dunstan "shoeing the Devil's hoof" – thus creating the Lucky Horseshoe superstition…
*   *   *   *
May 19 is a Feast Day.  (Albeit a "minor one.")  It celebrates St. Dunstan, who died in 988.
Among other things, Dunstan originated the Good Luck Horseshoe superstition.  For another, he created the British coronation ceremony that continues "even to this day."  And finally, he once aroused such jealousy that he got beaten up, tied up and thrown into a cesspool.
But ultimately, he became popular.  Or as Wikipedia noted, "Until Thomas Becket's fame overshadowed Dunstan's, he was the favorite saint of the English people."  Which means that for a long time – back in the days of Merrie Olde England – St. Dunstan was "more popular than Richard Burton."
(Burton played Becket in the 1964 film of the same name.  Peter O'Toole played King Henry II, on whose orders Becket was killed.)
So anyway, over a thousand years ago St. Dunstan rose through the ranks of the then-Catholic Church in England, and eventually became Archbishop of Canterbury.  And some centuries later – after King Henry VIII broke with the Roman Catholic church – the Archbishop of Canterbury became the "senior bishop and principal leader of the Church of England," and also the "symbolic head of the worldwide Anglican Communion."
Which means that for a long time – a thousand years ago – Dunstan was pretty important:
His work restored monastic life in England and reformed the English Church…  Dunstan served as an important minister of state to several English kings.  He was the most popular saint in England for nearly two centuries, having gained fame for the many stories of his greatness, [including] those concerning his famed cunning in defeating the devil.
As shown in the image at the top of the page…
The story there is that one day the Devil asked Dunstan – skilled as a silversmith and metalworker – to shoe his horse.  But instead, Dunstan nailed a horseshoe to the Devil's hoof.  "This caused the Devil great pain, and Dunstan only agreed to remove the shoe and release the Devil after he promised never to enter a place where a horseshoe is over the door."
Which led to the Lucky Horseshoe Superstition.  (There's an ongoing debate on whether the shoe should be hung "up" or "down," detailed in the notes.)
Now about that being "beaten up and thrown into a cesspool."
When he was young – and after first entering the service of the Church – he got appointed to the court of King Athelstan.  (Circa 894-939.)  He soon became a court favorite, which made the other "favorites" jealous.  They accused him of witchcraft and black magic and – after the king ordered him to leave – his enemies attacked him, beat him severely, tied him up and threw him into a cesspool.  (A modern version of which is seen at left.)  
Ironically, that experience may have led him back to the priesthood.  That is, after he managed to get out of the "muck" – literally – he made his way to the home of his  uncle, Ælfheah, Bishop of Winchester.
Uncle Ælfheah tried to persuade Dunstan to become a monk, but he had his doubts.  (Which isn't surprising.)  For one thing, he wasn't sure he had the "vocation to a celibate life."  For another, there was that experience in the court of King Athelstan.  However:
The answer came in the form of an attack of swelling tumors all over Dunstan's body. This ailment was so severe that it was thought to be leprosy.  It was more probably some form of blood poisoning caused by being beaten and thrown in the cesspool.  Whatever the cause, it changed Dunstan's mind.
And ultimately led him to be named the Archbishop of Canterbury…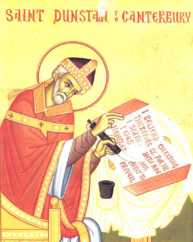 But wait, there's more!  That is, for more on this saint, see St. Dunstan, at the Satucket (Daily Office) website.  It noted a contest of wills between Dunstan and the newly-crowned King Eadwig. (Also spelled "Edwy.")  The new king was 16 years old at the time, and when he reacted like a normal 16-year-old – newly freed from all restraint – Dunstan "rebuked [him] for unchastity."
That led to Dunstan's being exiled and a near-civil-war.  However:
When the dust settled, Edwy was dead, his brother Edgar was king, and Dunstan was Archbishop of Canterbury.  The coronation service which Dunstan compiled for Edgar is the earliest English coronation service of which the full text survives, and is the basis for all such services since, down to the present.
Or as  Wikipedia, put it:  "This service, devised by Dunstan himself … forms the basis of the present-day British coronation ceremony," as shown in the photo below.
And finally, there's a connection to Ascension Day, which we just celebrated:  "On Ascension Day in 988, he told the congregation that he was near to death, and died two days later."
So here's to Dunstan, who gave us the Lucky Horseshoe, created today's British coronation ceremony – and even survived being beat up, tied up and thrown into a cesspool…
*   *   *   *
*   *   *   *
The upper image is courtesy of Dunstan – Wikipedia.  The full caption said that Dunstan was "shoeing the Devil's hoof, as illustrated by George Cruikshank."  
The "Richard-Burton-as-Becket" image is courtesy of Becket (Blu-ray) (1964) … oldies.com.  See also Becket (1964 film) – Wikipedia and Becket (1964) – IMDb.  Note also that the phrase "more popular than Burton" is an allusion to the "More popular than Jesus" hubbub in 1966.  (At which time yours truly was a mere 15 years old.)  The "hubbub" arose from a comment by John Lennon:
During an interview, he argued that Christianity was in decline and that it may be outlived by rock music, explaining … "Jesus was all right but his disciples were thick and ordinary.  It's them twisting it that ruins it for me."  The comment drew no controversy when originally published in the United Kingdom, but angry reactions flared up in Christian communities when it was republished in the United States five months later…  Shortly after the controversy broke, Lennon reluctantly apologised for the comment, saying "if I had said television was more popular than Jesus, I might have got away with it."  [E.A.]
Re:  The "horseshoe debate."  See Horseshoe Superstition … Hanging Over Doorway.
The lower image is courtesy of Coronation | The Royal Family, which noted:
The coronation ceremony, an occasion for pageantry and celebration, but it is also a solemn religious ceremony, has remained essentially the same over a thousand years.  For the last 900 years, the ceremony has taken place at Westminster Abbey, London.  The service is conducted by the Archbishop of Canterbury…