A more-subdued paintings of Christians and lions…  ("Christian porn" is discussed below.) 
*   *   *   *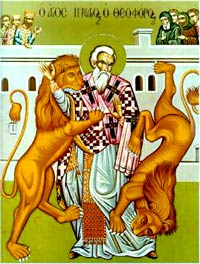 October 17 is the Feast Day for one of our lesser-known saints: Ignatius of Antioch.  Rumor has it that he was one of the first Christian martyrs to be literally "thrown to the lions." (Possibly in the Colosseum in Rome, and as shown at left.)
But there are some who doubt that he was torn apart by lions, or that it happened in the Colosseum.  (As opposed to some other place in Rome.)   But it seems uncontested that he died before his time, and that his "crime" was being an early Christian bishop.
As noted in Satucket, "After the Apostles, Ignatius was the second bishop of Antioch in Syria."  Or see Ignatius of Antioch, Apostolic Father – Podcast:
Ignatius of Antioch, whom the Church remembers on October 17, is one of the most important of the apostolic fathers, the Fathers of the Church who[se] lives overlapped the lives of the last of the apostles.  Ignatius was, in fact, only the second successor of Peter, Paul, and Barnabas in the important city of Antioch, where the followers of Jesus were called Christians for the first time.
And as Wikipedia noted, "St. Peter himself left directions that Ignatius be appointed to the episcopal see of Antioch."  In addition, a tradition arose that Ignatius "was one of the children whom Jesus took in his arms and blessed."
In other words, he was a pretty important guy in the early Church.
We don't know much about his early life.  (Except he converted to Christianity at an early age.)  Most of what we do know came after he was "arrested by the Imperial [Roman] authorities, condemned to death, and transported to Rome to die in the arena."  (Wikipedia said he was sentenced to die at the Colosseum – like those at right – but actually ended up in the Circus Maximus.)  
Which brings up the question – asked by some anyway – whether Christians [were] really thrown to the lions?  According to The Straight Dope, the "story has its suspicious aspects:"
According to the historian Tacitus, Christians during Nero's time (at least) were mainly torn apart by dogs, crucified, or burned alive – no mention of lions.  The Romans did throw people to lions on occasion, and Tertullian, writing later, remarks that the Romans were always ready to exclaim "Away with the Christians to the lion!" whenever times got tough.
But – according to Straight Dope – Tertullian didn't witness any such throwing-to-the-lions, "and anyway he was a Christian himself."  The site also said it was possible the "whole Christians-lions thing was a Christian ploy for sympathy."  (The site did concede that Romans evidently "fed Christians to animals, and people to lions, [but] we have no source stating directly that they specifically fed Christians to lions.")
Talk about picky…
But whether he was torn apart by dogs, crucified, or burned alive, Ignatius' main claim to fame came from the meetings he had and the letters he wrote, from the time of his arrest to his arrival in Rome.
That is, he was arrested in Antioch, in now south-central Turkey, about 12 miles from the border with Syria.  (As shown above left, the tip of the island of Cyprus points directly to today's city of "Antakya.")  Also, Antioch is known as "the cradle of Christianity," and Ignatius had a lot to do with that.
That's because – on his long trip from Antioch to Rome – he was met by various groups of Christians;  "Ignatius took the opportunity to encourage them, speaking to groups of Christians at every town along the way."  And he wrote seven letters – to various congregations – "in which he gives us a window into the soul of an early Christian martyr on his way to execution."
Now, about those Doubting Thomases…
There seems to be ample evidence that Christians – along with others deemed "undesirable" by the Roman authorities – did suffer greatly.  See Throwing Christians to the Lions: Fact and Legend:
Most Roman magistrates believed themselves to be enlightened and the government they represented to be merciful. and gave the Christians many opportunities to renounce their "strange unpatriotic beliefs…"  The crowds who came to witness the games were a different matter altogether.  Sometimes they became worked up into a frenzy of hate.  They considered the Christians to be antisocial scum and clamored for a painful death for them in the arena, being mauled and torn apart by wild beasts or forced to fight gladiators who killed them for a public spectacle.
(BTW: The part on crowds "worked up into a frenzy of hate" sounds surprisingly modern, somehow.)
But see also Tales of Roman Emperors Feeding Christians to the Lions Are Titillating to Christians … and Wholly Made Up.  That article took issue with tales of "Christians being thrown to the lions by hard-hearted Roman emperors," as wholly made up:
There are zero authentic accounts of Christian martyrdom in the Colosseum until over a century after Christianity became the official religion of the Roman Empire.  In fact, not a single legitimate record exists of the Romans executing any Christians in the Colosseum.  Zip.  Zilch.  Nada.  [E.A.]
You can see the full response to this claim by Wholly Made Up in the notes below.  However, the article did make a couple of valid points.  Like this one:
When people talk about being persecuted in modern America … it's dangerous…  When American Christians yelp about being discriminated against, it is doubly galling:  for one, because the whole thing is so obviously spun out of thin air;  and also because such claims make light of Christians elsewhere who really do get a raw deal from their governments.
The other good point was about "persecution porn."  You can see some examples at Damnatio ad bestias – Wikipedia, referring to "damnation to the beasts."  That in turn referred to the "form of Roman capital punishment in which the condemned person was killed by wild animals."
The article noted that from "the 1st to 3rd centuries AD, this penalty was mainly applied to the worst criminals, slaves, and early Christians."  But the article also included at least two paintings of nubile young Christian women – in the altogether – bravely facing death at the "hands" of wild beasts.
Unfortunately, this is a family-oriented blog, so I can't include them here.  However, that seems to be where the phrase "persecution porn" came from.  (The comparatively-tame painting, "Martyrdom of St. Euphemia" – which occurred at Chalcedon – is shown above right.)
As to how long such "martyr literature" has been around, Isaac Asimov* indicated that it goes back at least as far as 100 or more years before Jesus.
That is, 1st Maccabees is a book written "after the restoration of an independent Jewish kingdom by the Hasmonean dynasty, about the latter part of the 2nd century BC."  But Asimov said the writer of the Second Book of Maccabees included a number of gruesome martyr stories, in a lovingly-gory detail that was not evident in the first book.
Accordingly – he said – "one might wonder if they are not merely atrocity stories made up after the fact."  (Which seemed to be the point Wholly Made Up was making.)  
However – Asimov went on to note – the "history of Nazi Germany has proved to all of us that atrocity stories are sometimes simple truth, and understatements at that:"
In any case, the stories, whether strictly true or propaganda inventions, are told in grisly detail as edifying examples of loyalty to the death.  These are the first martyr-details in the Judeo-Christian tradition and formed a precedent for many later such tales that formed so large a part of the early Christian literature.
See also 2d Maccabees – Wikipedia:  The "long descriptions of the martyrdoms of Eleazar and of a mother with her seven sons … caught the imagination of medieval Christians [and are] considered the first model of the medieval stories of the martyrs."
It should also be noted that this tradition continued in Foxe's Book of Martyrs.  That book – published in 1563 and with illustrations like that below – was highly influential in England and Scotland, "and helped shape lasting popular notions of Catholicism there."
And finally, this seems to be a tradition that goes on "even to this day."  (I.e., we can probably look forward to a whole lot of "persecution stories" – if not "martyr porn" – after November 8…)
*   *   *   *
William Tyndale – "strangled and burned at the stake…"
*   *   *   *
The upper image is courtesy of Colosseum – Wikipedia, the free encyclopedia.  The caption:  "'The Christian Martyrs' Last Prayer,' by Jean-Léon Gérôme (1883)."
Other sources on this saint include Ignatius' Martyrdom by Lions in the Colosseum  ("Bible History, and Ignatius of Antioch | Theopedia.
The image to the left of the paragraph beginning, "Unfortunately, historians don't know much," is courtesy of Christian Martyrs at the Colosseum – Konstantin Flavitsky (www.the-athenaeum.org).
Re:  The Straight Dope: Were Christians really thrown to the lions?  This article included a wealth of information on such Roman practices, including this interesting side-note:
Roman animal sports did at least provide an answer to one perennial question:  Which is tougher, a bull or a rhino?  Answer:  Never bet against a rhino, which according to the writer Martial had no problem getting its horn under a bull and flipping it like a flapjack. 
The "writer Martial" was formally known as "Marcus Valerius Martialis," and best known for his 12 "books of Epigrams, published in Rome between AD 86 and 103, during the reigns of the emperors Domitian, Nerva and Trajan…  He is considered to be the creator of the modern epigram." 
The map showing Antioch is courtesy of tofspot.blogspot.com, "Crossroads of the Middle East: Lebanon and Palestine."
Re:  "Full response to Wholly Made Up."   For one thing, note the claim in that article that such cruelties were "wholly" made up.  As in "completely or fully," "to the full or entire extent," "completely ," and/or "to the exclusion of other things."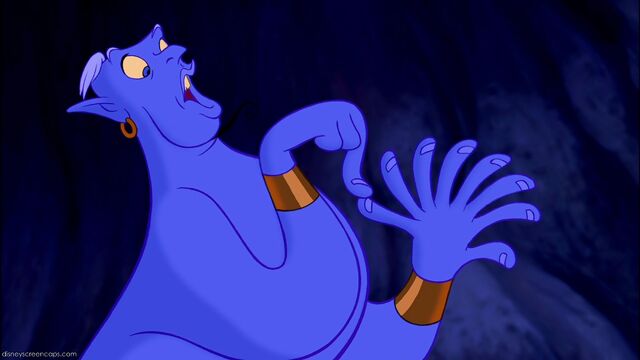 For another thing, note the number of "provisos, limitations and quid-pro-quos."  Early Christians may have been torn apart by dogs, crucified, or burned alive, rather than being "eaten by lions."  Or they may have died in the Circus Maximus, not the Colosseum.
The fact remains, they were just as dead.
Then there was the claim of no such martyrdom "until over a century after Christianity became the official religion of the Roman Empire."  The fact is that the Emperor Constantine didn't make Christianity the "religion of the Roman Empire" until 313 A.D.  See Constantine the Great and Christianity – Wikipedia, which said the effect of the Edict of Milan – aside from "decriminalizing Christian worship" – was to "cease the persecution of Christians in the Roman Empire."
Needless to say, there's a big difference between "decriminalizing" a religion and making it official.  Then too, early Christians were just as dead even if the Emperor wasn't "hard-hearted."
And Re:  "Provisos, limitations and quid-pro-quos."  See Quotes from Movie Aladdin :: Finest Quotes.  The image above left is courtesy of Image – Aladdin-disneyscreencaps.com-4574.jpg – Disney Wikidisney.wikia.com.
Re: Isaac Asimov.  The quotes about 1st Maccabees and 2d Maccabees are from Asimov's Guide to the Bible (Two Volumes in One),  Avenel Books (1981), at pages 762-63. 
Asimov (1920-1992) was "an American author and professor of biochemistry at Boston University, best known for his works of science fiction and for his popular science books.  Asimov was one of the most prolific writers of all time, having written or edited more than 500 books and an estimated 90,000 letters and postcards."  His list of books included those on "astronomy, mathematics, theBible, William Shakespeare's writing, and chemistry."  He was a long-time member of Mensa, "albeit reluctantly;  he described some members of that organization as 'brain-proud and aggressive about their IQs.'"  See Isaac Asimov – Wikipedia.
The lower image is courtesy of Foxe's Book of Martyrs – Wikipedia.  The caption:  "William Tyndale, just before being strangled and burned at the stake, cries out, 'Lord, open the King of England's eyes,' in woodcut from an early edition of Foxe's Book of Martyrs."  See also, Bill Tyndale – who published a Bible you could actually READ!