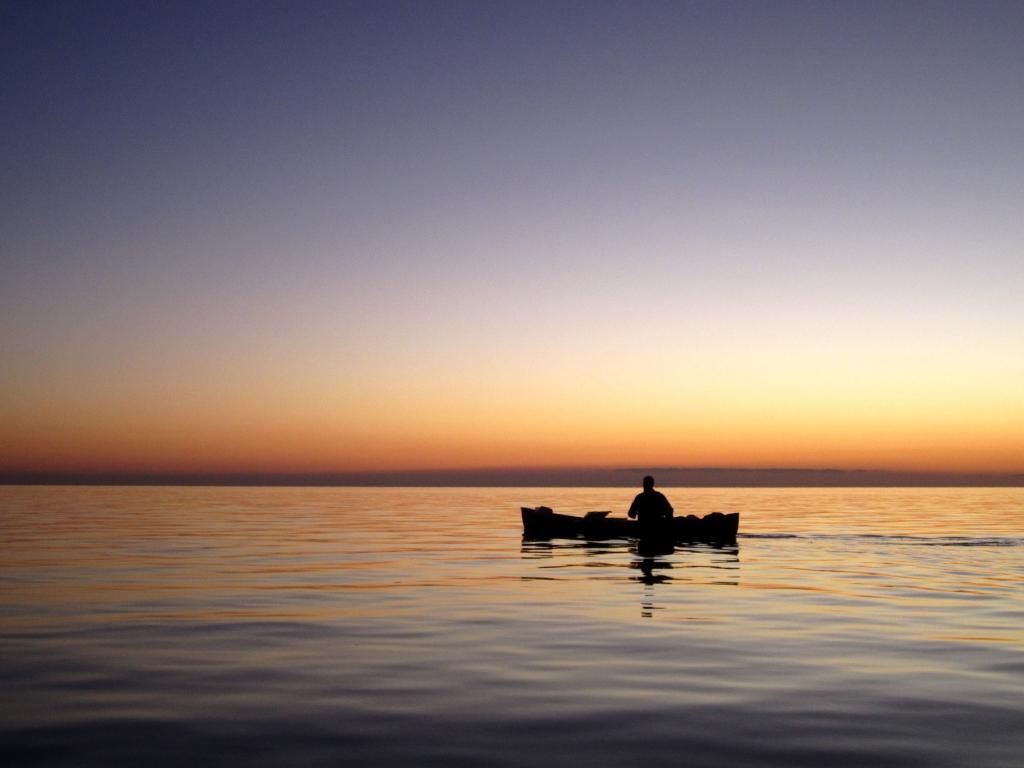 Here we are – 10 miles out in the Gulf of Mexico – at sunrise on November 10, 2014…
Friday, February 13, 2015 – One prevailing theme in this web blog is the idea of a pilgrimage, and I've done a few of those myself.  This is a story from my latest pilgrimage:
In the spiritual literature of Christianity, the concept of pilgrim and pilgrimage may refer to the experience of life in the world (considered as a period of exile) or to the inner path of the spiritual aspirant from a state of wretchedness to a state of beatitude…
See "On St. James the Greater."   (He's the patron saint of pilgrims.)
*   *   *   *
I just got back from a quick – hopefully last – trip to Biloxi.  The mission?  "Achieve closure."
Just to be accurate, I "e-searched" closure and got this:  1) "the act or process of closing something, especially an institution, thoroughfare, or frontier, or of being closed," and/or  2) a "sense of resolution or conclusion at the end of an artistic work."  Yup, that's it!
My brother and I took eight days to canoe out to some offshore islands … 10 or 12 miles offshore – including Half-moon Island, Cat Island and Ship Island [both East and West…  For that earlier trip]  I drove down to Biloxi on Sunday November 2 [2014], and we left Slidell [Louisiana] on Lake Ponchartrain on Wednesday November 5.  It took us eight days – through the morning of Wednesday November 12 – to get through the Rigolets (pronounced "RIG-uh-leez") out to the Gulf islands noted above, and back to Biloxi. [E.A.]
Unfortunately, the end of the trip didn't go as planned…
That November 12, we got up at 2:00 a.m. and hit the water at 3:00 a.m.   (We had camper lights that attached to the bill of a baseball cap.)  Our goal was the Beau Rivage Casino and Hotel.  We could see it shimmering brightly on the horizon, nine miles away over the open water.
Things went well until somewhere around 5:30, when a storm started coming up, threatening from the north.  (The weather forecast called for a bad line of storms the next day.  That was why we had to make Biloxi that day.  The alternative was spending two or three more days away from the comforts of civilization, like running water and not having to "dig a hole."  The alternative was huddling in our tents on East Ship Island two or three more days…)
There was no real danger, yet.  But then all of a sudden there was no real horizon either.  And somehow, in the gathering wind and darkness and no horizon, the two intrepid canoeists got separated.  To top it all off, we learned that when we – or at least I – looked around in the darkness for my brother's "beacon," those camper lights weren't all that helpful.
As I peered out into the darkness, the light from my brother's cap – wherever he was – pretty much blended in with all the other navigation lights, the ones you could see "seaward."
To make a long story short, my brother ended up calling 911.  (On his cell phone.  This was after he tried to call me on my cell phone.  My cell phone was safely tucked away in a dry bag, somewhere in the bowels of my canoe.  And it wasn't turned on, for the simple reason that for most of the eight days out, there was no cell-phone reception.  Go figure.)
So anyway, we finished the trip by getting picked up by a boat from the Biloxi Marine Patrol…
Ever since then it has stuck in my craw that I didn't do the whole eight days'  paddling on my own.  (To stick in one's craw refers to something that causes one "to feel abiding discontent and resentment," based in turn on something you "cannot swallow, based on the literal meaning of craw (the throat of a bird)."  See stick in craw – Idioms by The Free Dictionary.)
Here's how I started figuring.  After I got picked up – in my little Rocinante of a canoe – the BMP boat traveled quite a distance eastward, heading back to the marina just east of the Beau Rivage.  (This was after the officers had picked up my brother and his canoe.)   I remembered too that most of that ride was close to the shoreline.  Thus I interpolated that in the pre-dawn no-horizon hours of November 12, I had drifted quite a way to the west of the Beau Rivage.
I also remember that just before the pick up, I'd been drift-paddling toward a piling with a bright red flashing beacon-light at the top. This was about 5:40 a.m.  I figured I'd wait for the sun to come up and burn off the fog.  (The fog-haze that blur-erased the horizon so well.)
So I wanted to get to the pole, but I didn't want to get there too soon.  I didn't want to be seen "clinging to the pole," like some decrepit old geezer who had no business being out there at that time o' day.  Also, the waves were rolling pretty well.  That meant it would be quite an effort to either hang on to the pole by myself, or tie the canoe up to the pole, only to see it being tossed up and down, and likely to snap the connecting rope.
This "pilgrim's progress" is continued in Part II…
The upper image is a photo I took near dawn, the morning of November 10, 2014.  (And incidentally, those are clouds on the horizon, not land.)  That day we got up and broke camp at 3:00 in the morning.  We hit the water at 5:00 a.m. and paddled 17 miles in 11 hours, not counting an hour break on Cat Island, before proceeding to Ship Island.  Not bad for a couple old geezers!
The bottom image is courtesy of www.saintjonah.org/articles/pilgrims_podvig.html, with the caption:  "A map of the journey of Christian, from Pilgrim's Progress."   Pilgrim's Progress is a "Christian allegory written by John Bunyan , published in February, 1678, and "regarded as one of the most significant works of religious English literature."   It has been translated into more than 200 languages and has never been out of print.  "Bunyan began his work while in the Bedfordshire county prison for violations of the Conventicle Act, which prohibited the holding of religious services outside the auspices of the established Church of England."  On that note see also On Oscar Wilde and Psalm 130, regarding the "popular opinion that some of the world's best writing has been done in prison."

The full "mixed emotions" reference is Mixed Emotions – The Rolling Stones – YouTube.
The full "dry bag" reference is Dry bag – Wikipedia, the free encyclopedia.