"Christ in the House of Martha and Mary," as featured in this Sunday's Gospel…  
*   *   *   *
This post is on this Sunday's Gospel, and on three feast days coming up at the end of july.
For starters, this Sunday's Gospel is Luke 10:38-42.  It's about Martha, who had a sister named Mary.  And Mary turned out to be not much help when Jesus came to visit them in Bethany:
Martha was distracted by her many tasks;  so she came to him [ – Jesus – ] and asked, "Lord, do you not care that my sister has left me to do all the work by myself?  Tell her then to help me."  But the Lord answered her, "Martha, Martha, you are worried and distracted by many things;  there is need of only one thing.  Mary has chosen the better part, which will not be taken away from her."
I wrote about the two sisters in Mary and Martha of Bethany.  That post featured the painting above left, a  "plot twist" by Velázquez.  (Among other things, the artist did a "painting within a painting."  Which leads to the question:  "Who are the two women in the foreground?")
Note also that this July 29 is the feast day for Mary and Martha, along with their brother Lazarus.
(But that's only in the "Satucket" or Daily Office Lectionary.  As in Mary, Martha, [& Lazarus, their brother].  Note also this was the Lazarus who Jesus Raised From The Dead, as interpreted by Van Gogh, at right.  But he's not to be confused with "the beggar named Lazarus," described in Luke 16:19-31.)
At first glance, the story of these two sisters seems to exemplify the kind of ongoing personality conflict so prevalent today, and especially in our politics.  But Luke's point seemed to be:  That "far from being bickering sisters, these two were a team, each complementing the other."  
That is, the sisters could be seen as two parts of a unified whole:
Which is another way of saying that the debate over which is the better path … has been going for most if not all the 2,000 years since the Church was born…  Mary and Martha remind us that we need not "be at odds with each other" over religion [or other matters].  Instead we need to work on becoming two – or more – "parts of the whole."
For the rest of the story, go ahead and read On Mary and Martha of Bethany for yourself.
Closer to home – chronologically – is the feast day for Mary Magdalene.  Her special day is July 22, which I wrote about in Mary Magdalene, "Apostle to the Apostles."  That post featured the painting "Penitent Magdalene," by Titian, at left.  (Along with a link to "a 'racier' version in 1533.")  
But seriously, here's the main point of this Mary's story:
Jesus "restored Mary Magdalene to health of body and of mind, and called her to be a witness of his resurrection."  She did that, and set an example for us all.  And she did all that despite a sordid past and a really lousy reputation.
That is, according to Wikipedia, this particular Mary – which was a common name in Jesus' time – had a really bad reputation.  "In Western Christianity, she's known as 'repentant prostitute or loose woman.'"  Or as Isaac Asimov put it, this Mary "has been considered, in tradition, to have been a prostitute and to have repented as a result of her meeting with Jesus.  Thus the seven devils" – noted in Mark 16:9 and Luke 8:2 – "might then be considered devils of lust."  
However, further research seems to show that such claims "are unfounded."
For one thing – and as Wikipedia noted – those claims "are not supported by the canonical gospels.  The identity of Mary Magdalene is believed to have been merged with the identity of the unnamed sinner who anoints Jesus' feet in Luke 7:36–50."  But one thing is clear:
She is most prominent in the narrative of the crucifixion of Jesus, at which she was present. She was also present two days later …  present two days later [when] she was, either alone or as a member of a group of women, the first to testify to the resurrection of Jesus.   John 20 and Mark 16:9 specifically name her as the first person to see Jesus after his resurrection.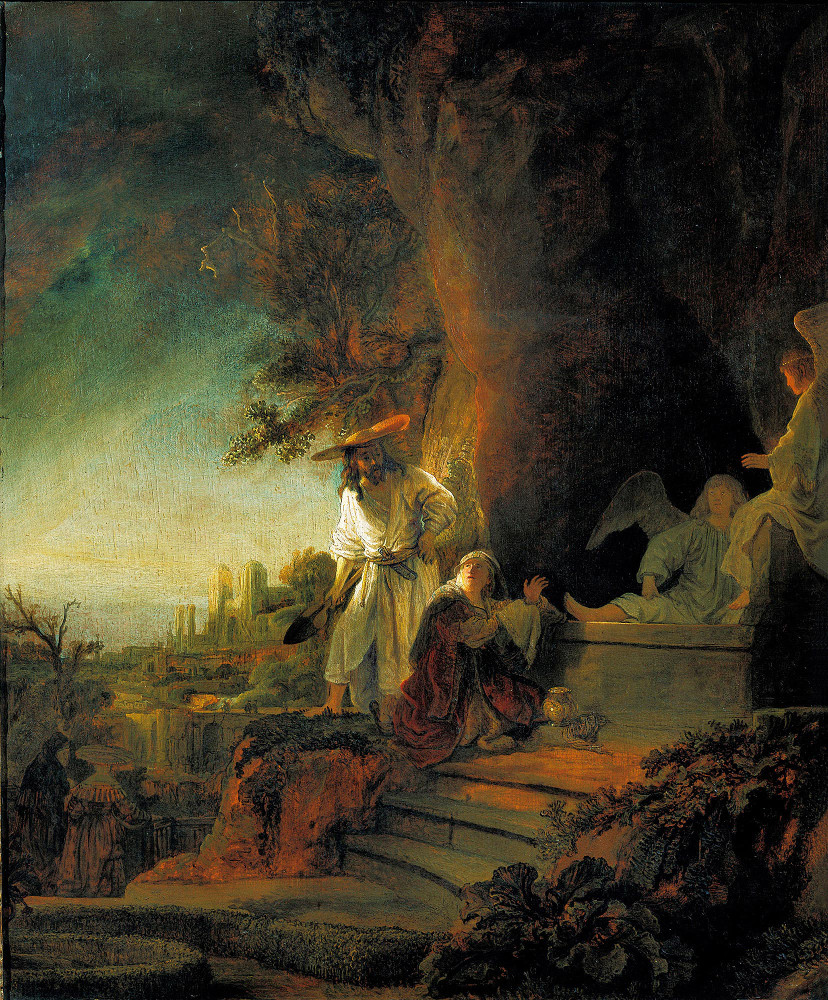 To repeat:  Mary Magdalene was both the first person to see Jesus after his resurrection – as shown at right – and the first person "to testify to the resurrection of Jesus."
Which may explain why this Mary had such a lousy reputation. (Male vanity being what it is.)  That is, while Jesus' male disciples cowered in their hiding places – John 20:19 – Mary of Magdala stayed at the tomb, braving the danger.  (John 20:11.)
So it would only be natural for those male disciples to spread rumors about Magdalene's past.  (In an effort to cover up their shortcomings when they got to their own personal "breaking point…")
This is called building yourself up by tearing other people down.  And it's a common phenomenon "even to this day."  In turn, Mary's bad reputation may well have been the result of the jealousy of her male rivals, as noted in "Apostle to the Apostles:"
The one indisputable fact seems to be that Mary Magdalene … was both the first person to see the empty tomb of Jesus, and one of the first – if not the first – to see the risen Jesus.  (Which may have accounted for jealous males trying to sully her reputation.)
And finally, the third of three feast days coming up at the end of July is for St. James the Greater.
He's called the Greater – as seen at right – to "distinguish him from James, son of Alphaeus and James the Just."  He was one of the first disciples to join Jesus. (Matthew 4:21-22.)  He was one of only three apostles selected by Jesus to witness His Transfiguration.  And he was apparently the first Apostle to be martyred.  (One author suggested it was because of the "fiery temper, for which he and his brother earned the nickname Boanerges or 'Sons of Thunder.'"  See Mark 3:17.)
And finally, this James is the patron saint of pilgrims.
That's fitting because I myself will be doing my own pilgrimage for pretty much the whole month of August.  (As in North To Alaska.  As to whether I will go "from a state of wretchedness to a state of beatitude," that's a whole 'nother matter entirely.)
Which brings up the water-skiiing metaphor shown below, and how it applies to pilgrims:
As yours truly once wrote, starting your spiritual pilgrimage by reading the Bible on a regular basis "is a bit like water-skiing," or more precisely, "a bit like grabbing the handle of the rope" attached to a metaphoric "Big Motorboat in the Sky.  (As shown below.)  Once you grab on, your main job is simply to hang on for dear life…"
*   *   *   *
*   *   *   *
A note about the wording of the title.  Being assiduous, I Googled the search term "what's the plural of mary."  (Just to make sure the title was grammatically correct.)  The most relevant answer came from What is the plural of bloody mary? – WordHippo:  "The plural form of bloody mary is bloody marys."  (Though the plural form still looks a bit strange.)
The upper image is courtesy of  Christ in the House of Martha and Mary (Vermeer) – Wikipedia.  See also Mary of Bethany – Wikipedia, the free encyclopedia, with the caption:  "Christ in the House of Martha and Mary, Johannes Vermeer, before 1654–1655, oil on canvas (National Gallery of Scotland,Edinburgh) – Mary is seated at the feet of Jesus."
The other Bible readings for 7/17 are, in Track 1, Amos 8:1-12 and  Psalm 52.  The Track 2 readings are Genesis 18:1-10a and Psalm 15.  Colossians 1:15-28 and Luke 10:38-42 are in both tracks.
The "penitent Magdalene" image is courtesy of wikipedia.org/wiki/Penitent_Magdalene_(Titian,_1565):
The Penitent Magdalene is a 1565 oil painting by Titian of saint Mary Magdalene, now in the Hermitage Museum in Saint Petersburg.  Unlike his 1533 version of the same subject, Titian has covered Mary's nudity and introduced a vase, an open book and a skull as a memento mori.  Its coloring is more mature than the earlier work, using colors harmoni[z]ing with character.  In the background the sky is bathed in the rays of the setting sun, with a dark rock contrasting with the brightly lit figure of Mary.
Thus as noted, Titian did a racier version in 1533, some 32 years before the "more mature" version herein. See Penitent Magdalene (Titian, 1533) – Wikipedia.  (But that racier version can't necessarily be explained by excess hormones.  Titian was born between 1488 and 1490, so he would be at least 43 years hold when he did his 1533 version.  By 1565, when he did the version shown above, he would have been at least 75 years old.  That may explain why he felt the need to "tone it down" a bit, being so much closer to the end of his life.)  So anyway, for more on this Mary see also MARY MAGDALENE, Bible Woman: first witness to Resurrection, and What Did Mary Magdalene look like?
Re: Isaac Asimov.  The quotes about Mary Magdalene are from Asimov's Guide to the Bible (Two Volumes in One),  Avenel Books (1981), at pages 899-902. 
Asimov (1920-1992) was "an American author and professor of biochemistry at Boston University, best known for his works of science fiction and for his popular science books.  Asimov was one of the most prolific writers of all time, having written or edited more than 500 books and an estimated 90,000 letters and postcards."  His list of books included those on "astronomy, mathematics, theBible, William Shakespeare's writing, and chemistry."  He was a long-time member of Mensa, "albeit reluctantly;  he described some members of that organization as 'brain-proud and aggressive about their IQs.'"  See Isaac Asimov – Wikipedia.
Re: "Breaking point."  Garry Wills translated the Lord's Prayer to read "and bring us not to the Breaking Point, but wrest us from the Evil One."  (The traditional translation reads "lead us not into temptation,but deliver us from evil.")  But as I noted in The True Test of Faith, "somehow, based on my own life experience, the term 'Breaking Point' seems more appropriate."  See also Wills' book What the Gospels Meant, and/or What the Gospels Meant … Book Review.
The "James" image is  courtesy of James, son of Zebedee – Wikipedia.
The lower image is courtesy of Surfing and Waterskiing Vintage Postcards & Images, and/or CG-20 The Big Jump Water Skiing at Florida Cypress Gardens  Lakeland Florida (FL), Linen unused.  (As to why someone my age may go on such an arduous journey, see On returning from a pilgrimage.