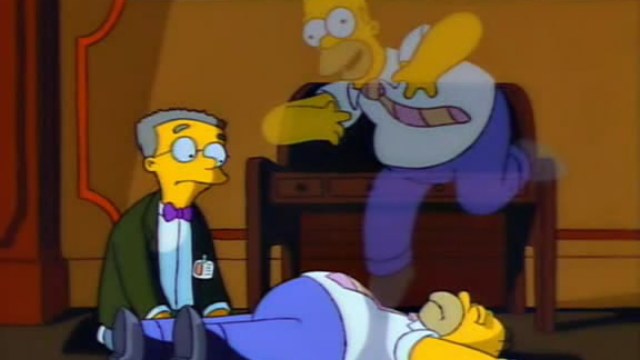 An irreverent view of an out-of-body experience, described by Apostle Paul in 2d Corinthians. 12:2-4…
*   *   *   *
The Daily Office Bible readings for Thursday, June 15 included 2d Corinthians 12:1-10.  That reading included 2d Corinthians 12:2-4.  That's the passage where the Apostle Paul described an apparent out-of-body experience:
I know a man in Christ who fourteen years ago was caught up to the third heaven.  Whether it was in the body or out of the body I do not know – God knows.  And I know that this man – whether in the body or apart from the body I do not know, but God knows – was caught up to paradise and heard inexpressible things, things that no one is permitted to tell.
incidentally, this Third Heaven is a "division of Heaven in religious cosmology."  The concept is common to Judaism, Christianity and Islam, and in "some traditions it is considered the abode of God."  In other views it's seen as "a lower level of Paradise, commonly one of seven."
Be that as it may, this business of "third heavens" and out-of-body-experiences is way too complicated for today's post.  The point I'm making is that there's more to the Bible than meets the eye, and that you can't fully appreciate it with a narrow-minded literalist approach.
For one thing, according to Paul the idea of heaven – "third" or otherwise – involves things that "no one is permitted to tell."  (No one who's been there anyway…)  Which fits in with John 21:25:
Jesus did many other things as well.  If every one of them were written down, I suppose that even the whole world would not have room for the books that would be written.
That is, Jesus "did many other things" that weren't written down in the Bible.  Which leads me to say again:  "There's more to the Bible than meets the eye."
Which makes this the perfect time to mention that June 15 is also the Feast Day for Evelyn Underhill (1875-1941).  She's the English author known for "numerous works on religion and spiritual practice, in particular Christian mysticism."
Put another way, her main teaching was "that the life of contemplative prayer is not just for monks and nuns, but can be the life of any Christian who is willing to undertake it."
Which is also pretty much the theme of this blog.
I discussed Evelyn Underhill in the May 2014 post, On a dame and a mystic.  That post in turn was mainly about Dame Julian of Norwich, described as follows:
She was born in 1342 and died "about" 1416.  As Wikipedia noted, she was an English anchoress regarded as an important early Christian mystic.   (That clunk you heard was a Southern Baptist having apoplexy over the word "mystic.")
Which is another way of saying that the "terms 'mystic' or 'mysticism' seem to throw Southern Baptists and other conservative Christians into apoplexy.  ('Try it sometime!!!')"  See On the Bible and mysticism, and The Christian repertoire.  But the gist of both posts – and this blog as a whole – is that that "there's more to the Bible than meets the eye."  And also that you "can't fully appreciate that by using a narrow-minded literalist approach."
Which is another way of saying that in reading the Bible, you don't want to be one of those boot-camp Christians," as shown at left.  (That is, the "Biblical literalists who never go 'beyond the fundamentals.'")
On that note, consider what the Apostle Paul said about the "mysteries" of the Bible.  As told in St. Mark's "Cinderella story," Christianity has arguably been – all along – a "mystical" religion, full of mysteries; "secret, hidden, not readily known by all:"
For example, see 1st Corinthians 2:7, where Paul spoke of "the word of God in a mystery, even the hidden wisdom."  He spoke of the "knowledge in the mystery of Christ" in Ephesians 3:4, and of the "fellowship of the mystery" in Ephesians 3:9.  In Ephesians 5:32 he wrote, "This is a great mystery:  but I speak concerning Christ and the church."  Paul told Christians to "make known the mystery of the gospel" in Ephesians 6:19, and to hold "the mystery of the faith" – or the "deep truths" – in a "pure conscience" in 1st Timothy 3:9.  He said that "great is the mystery of godliness" in 1st Timothy 3:16, and in 1 Corinthians 4:1, Paul said that Christians were to be faithful "stewards of the mysteries of God."
Which is what makes reading and studying the Bible – and applying it to your own life – so fascinating.  Instead of going to church to become "mass produced carbon copies of each other," Christians who go beyond the fundamentals find their lives have become a "fascinating detective story."  ("You'll be like Charlie Chan, unraveling the mysteries of life…")  
In other words, the theme here is that the Bible was written to liberate us, not shackle us.  In other words, this blog says you develop more by reading the Bible with an open mind.  And that if you read it too literally, you're only cheating yourself.  Or as a great philosopher once put it:
"Mind like parachute.  Work best when open."
*   *   *   *
Mysticism, one way of "unraveling the mysteries of life…"  
*   *   *   *
The upper image is courtesy of Out-of-body experiences are harder to remember | Ars Technicaarstechnica.com.  The article included a discussion of the "region of the brain called the hippocampus," which "acts as a sort of stenographer, integrating all the goings-on in the brain into a record that can be encoded into memory." 
The caption for the out-of-body image:  "A 19th-century illustration of Robert Blair's poem The Grave, depicting the soul leaving the body."
The full Bible readings for July 15, 2017:  "AM Psalm [70], 71; PM Psalm 74; Ecclus. [Ecclesiasticus] 44:19-45:5; 2 Cor. 12:1-10; Luke 19:28-40."
Re: Evelyn Underhill.  See also the Wikipedia article on her.
Re:  "Carbon copy Christians."  See How to Break the Cookie-Cutter, Carbon Copy Christian Cycle:
Churches, wittingly or otherwise, often taken on the role of mass producing assembly lines. Each Christian is instructed in the same way, given the same set of rules, a particular sanitized clothing lines of music selection, and specific speculative interpretations of scripture which they must abide by.  Churches such as these are not interested in creating unique Christians but mass produced carbon copies of each other.
The lower image was borrowed from The basics.