"Why – indeed – does my back hurt so much?"  See my answer below…
*   *   *   *
Now about that "pain in the back."  Unfortunately,  I'm not speaking metaphorically.
I actually did "throw out my back," back on Thursday, March 2.  That was only three days after I did my last post, The "Overlooked Apostle," Ruth and Mardi Gras.  (Which featured the image at left, of revelers in New Orleans "showing skin for beads;" of which I am speaking metaphorically.)  And the reason that that was the last post I did is because – ever since then – I've been unable to sit at my "laptop" desk at home for more than a few minutes at a time.
As noted in September 2016,* for next September – 2017 – "my brother and I plan to hike the Camino de Santiago, mostly in Spain."  As part of my training for that upcoming event, I tried a type of "forced march."  (Also known as a "loaded march.")  Briefly, a forced march involves alternating periods of walking and running – or jogging for older folk – but with increased resistance provided by a heavy pack.
In my case, on the Camino itself I hope to maintain a pace of 20 minutes per mile, with about 20 pounds of pack weight.  So for training purposes, I started experimenting with cycles of one minute – 85 steps – of jogging, followed by a number of minutes walking.
All the while wearing a 22-pound weight vest.  (Like that at right.)
I started out with one minute of jogging followed by six minutes of walking.  But I also wanted to be time-efficient, so I kept increasing the pace, by decreasing the number of walking minutes.  Finally, on March 2, I tried a four-minute cycle:  One minute of jogging and three minutes of walking.  To make a long story short, I overextended.
The problem – I figured out later – was that the weight vest was a bit too loose, so that my back got a constant pounding.  (Much in the nature of a series of kidney punches, as I also figured out later.)  There were warning signs, including the fact that it hurt to breathe during those minutes I was jogging.  Unfortunately, I succumbed to the temptation to "Walk it off, Nancy!"
Bad move.
Which is another way of saying that I've been paying for it ever since.
Which is also a problem, because Lent started back on March 1, and Lent is a key time in the church calendar and for this blog.  (For reasons including that it leads to the climax of Easter.)  So for your consideration – and as I type these words through my pain – I offer up last year's On Ash Wednesday and Lent – 2016.  Also, from 2015, Ash Wednesday and the Season of Lent:
According to the canonical gospels of Matthew, Mark and Luke, Jesus Christ spent 40 days fasting in the desert, where he endured temptation by Satan.  Lent originated as a mirroring of this, fasting 40 days as preparation for Easter.
See also Wikipedia, which noted that Lent is "devoted to 'prayer, penance, repentance of sins, almsgiving, atonement and self-denial.'"  And if you're interested in even more history on Ash Wednesday see The History and Meaning of Ash Wednesday.
That site noted the "pouring of ashes on one's body" as an "outer manifestation of inner repentance" is an ancient practice.  The earliest mention seems to have come at the end of the Book of Job, "older than any other book of the Bible."  In Job 42:6, after he is rebuked by God, Job says, "I despise myself and repent in dust and ashes."
And incidentally, there are actually 46 days between Ash Wednesday and Easter Sunday.  That's because Sundays don't count in the calculation.  Sundays in Lent are essentially "days off," when you can still enjoy whatever it is that you've given up for Lent.  (A fact overlooked by the writer/producers of 40 Days and 40 Nights – as shown at left – a "2002 romantic comedy film" which showed the main character "during a period of abstinence from any sexual contact for the duration of Lent."  As noted, the main character could have "taken Sundays off.")
But we digress.
One important point is that for many people, the whole purpose of the Season of Lent is to "draw themselves near to God."  For example, My Lenten meditation for last year involved trying to figure out "just when, where and how Moses came to write the first five books of the Bible. (The Torah.)"  And one thing I figured out from that Lenten meditation was that in writing the first five books of the Bible, Moses had to really dumb it down:
Moses was addressing an audience of the largely "unwashed."  That is, illiterate men and women who had been trained since birth to be "mindless, docile slaves…"  Suppose Moses had mentioned dinosaurs in his writings.  Or how "we" revolve around that "big bright thing in the sky."  The result would have been similar to what nearly happened [in] Exodus 17:4, "Moses cried out to the LORD, 'What should I do with these people?  They are ready to stone me!'"  [For the full story see Exodus 17:1-7.]
See also On Moses getting stoned, which included the image below.  That post included this observation:  That in plain words, "Moses was forced by circumstance 'to use language and concepts that his 'relatively-pea-brained contemporary audience' could understand.'"
Meanwhile I have my own thorn in the flesh, as part of this year's Lenten discipline…
*   *   *   *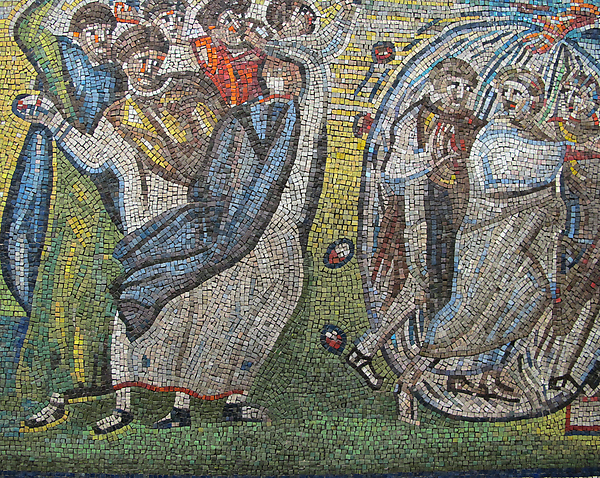 One time when Moses almost got stoned to death…
*   *   *   *
The upper image is courtesy of Back-Painemdocs.net.  Although the article concerned pediatric back pain – such pain suffered by "infants, children, and adolescents" – it did note that the "incidence of back pain increases with age."  Also re:  "Threw out my back."  See also Throw Out Your Back? 8 Tips to Help You Recover, which includes steps I wished I'd taken three weeks ago. 
"Note" also that an asterisk in the main text indicates a statement supported by a reference detailed further in this "notes" section.  Thus as to "As noted in September 2016," the reference (*) is to the post "Starting back with a bang."  It told of the "almost six weeks" – last summer – that my brother and I spent "hiking the Chilkoot Trail – 'meanest 33 miles in history' – and canoeing 440 miles on the 'mighty Yukon River.'"  I ended that post by noting I would "talk more about that [projected journey] – and pilgrimages in general – in St. James, Steinbeck, and sluts."
The weight-vest image is courtesy of Amazon.com: weighted vest.
Re:  "Forced march."  See Loaded march – Wikipedia, which noted that in the U.S. Army, a forced march for training purposes means covering 12 miles in three hours, while carrying 70 pounds including pack.  (Meaning four miles per hour, whereas I was considering an average of three miles per hour on the Camino, carrying no more than 20 pounds, or 10% of my body weight.)  Also, in the French Foreign Legion, a forced march meant covering five miles in 40 minutes, while carrying a 26-pound pack.  After describing other, longer types, Wikipedia noted:
Troublemakers are made to place extra rocks in their backpacks for the duration of the marches.  Further in the training of a "Caporal" there is a 100 km march which must be completed in 24 hours.
Re:  "Nanc[y]."  See also Tough it out – Idioms by The Free Dictionary.
The lower image is courtesy of Stoning of Moses, Joshua and Caleb | Byzantine | The Metroplitan Museum of Art.  (It's a mosaic from the 5th century.)  See also Stoning – Wikipedia, which includes another painting of the incident. The caption to that painting, under Punishment of the Rebels:  "The Punishment of Korah and the Stoning of Moses and Aaron (1480–1482), by Sandro Botticelli, Sistine Chapel, Rome."  See also Heresy – Wikipedia.
The "stoning" article said this of the "Korah" painting:
The painting … tells of a rebellion by the Hebrews against Moses and Aaron.  On the right the rebels attempt to stone Moses after becoming disenchanted by their trials on their emigration from Egypt.  Joshua has placed himself between the rebels and Moses, protecting him from the stoning…
Which raises anew the question:  "What would those backward, ignorant, sons-of-the-desert have done to Moses if he'd told them the truth about that 'big bright round thing in the sky?'"