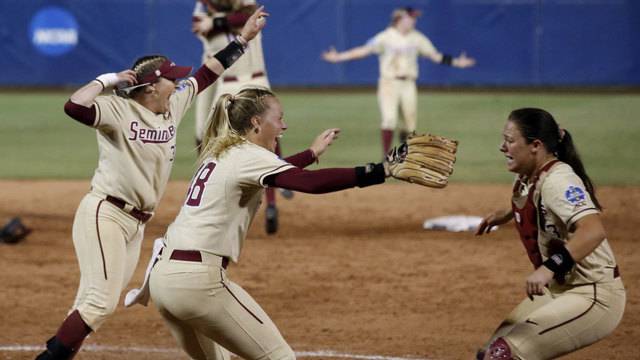 The FSU Women's first CWS title:  A recent example of the Law of unintended Consequences?
*   *   *   *
I'm working on a new post on my "practice of religion."  (My ritual sacrifice, if you will…)
That practice – obviously –  involves reading the Bible on a daily basis.  (Starting back in 1992.)  But it also involves my exercising seven hours a week, in an ongoing "search for the functional equivalent of Moses holding his hands up at Rephidim."  Which is another way of saying Moses may well have been the first man to say "It's only weird if it doesn't work."  (Or see God's Favorite Team" – Part III" – with the image at right – for a fuller explanation of my 'mystic quest.")
Also – in my mind anyhow – that practice also recently helped FSU's Women's softball team – seen celebrating at the top of the page – win their first-ever national championship.
I'll be writing more on my Ritual Sacrifice in a later post, but for now:
Let's focus on the Gospel lesson for today, Sunday, June 10. 
That would be Mark 3:20-35, where Jesus was "accused by His family and by Teachers of the Law."  First, His family accused Him of being  crazy.  ("When his family heard about this, they went to take charge of him, for they said, 'He is out of his mind.'")  Second, the so-called "teachers of the law" insisted that Jesus could only cast out demons because He was possessed by demons Himself.  ("He's possessed by Satan…  That's where he gets the power to cast out demons.")  
Which led to this judgment by Jesus, found in Mark 3:28-29:
"Truly I tell you, people can be forgiven all their sins and every slander they utter, but whoever blasphemes against the Holy Spirit will never be forgiven;  they are guilty of an eternal sin."
For a fuller commentary on that "eternal sin," see Mark 3:29 Commentary (Bible Hub).  But – as one of my former priests once summarized – the concept behind this passage is pretty simple: "If you're afraid you might have committed this 'eternal sin,' you probably haven't."
That's another way of saying that if you insist that you've never sinned, you could be in big trouble.  Or that it's only the sin you're not aware of – or refuse to consider – that can really get you in trouble.  But in church this morning, during the sermon, I had another thought.  Mark 3:29 could be a classic example of Jesus applying Deuteronomy 19:16.
I explored that "Deut. 19:16" concept in "Trump-humping" – and Christians arguing with each other.  Posted last April 8, that post explored the idea of people making false accusations:
In other words, if I think – or say, perhaps with relish – that someone I don't like is going to "roast in hell" and he's not, then I've put myself in danger of roasting in hell.
(BTW:  The full cite would be Deuteronomy 19:16-19.  Which could really get a lot of people in trouble these days.)   So basically the so-called "teachers of the law" accused Jesus of being  "possessed by Satan, the prince of demons."  Which in turn meant that they were liable to end up being punished as if they were in fact "possessed by Satan, the prince of demons."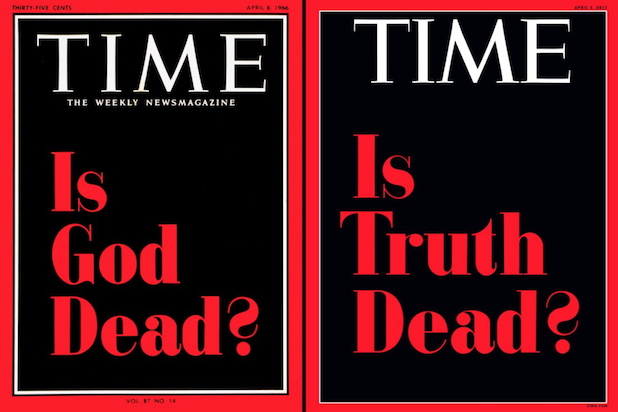 Which is not a pretty picture – or subject – to contemplate.  And this is my point:  Like Tom Cruise in the film A Few Good Men, all real and true Christians simply Want the Truth.  They want and need to find out things as they really are, mainly in their own self-interest.  As noted, the only real "unforgivable sin" is the one you're not aware of.
For other relevant summaries, see The Truth of God – Bible Hub, and/or Truth – Wikipedia.  Then there's John 14:6: Where "Jesus answered, 'I am the way and the truth and the life.'"
Which brings us back to my theory that – since 1992 – my ongoing ritual sacrifice has helped some of my favorite teams, including but not limited to teams from FSU.  (Where I graduated law school in 1984.)  For starters, since 1992 the FSU football team has won three national championships.  Also, "my" Tampa Bay Bucs won a Super Bowl.  "My" Tampa Bay Lightning won the Stanley Cup.  I got "my" L.A. Dodgers to Game 7 of last year's World Series.
(Somehow I have to figure out how to get the Dodgers over the hump.)
This year I got "my" FSU basketball team to the Elite 8.  FSU's Mike Martin became the winningest coach in college baseball history.  And of course the FSU Women's Softball team won it's first College World Series title.  The strange thing is that I was sorely disappointed when the FSU men's baseball team got eliminated in the first round of the NCAA playoffs.  And that's where the Law of unintended Consequences may have come in.  Or put another way:
God answers our prayers, but not always the way we expect.
So I prayed and "sacrificed" for the FSU men's baseball team to win a national championship, only to have the Women's softball team win their first national championship.
Which means this Eternal Search for Truth is an ongoing process.  Again, I hope to explore this process in future posts, but in the meantime I'll go on following my own particular "practice of religion."  For one thing, I'm sure there's a lesson there somewhere.
For another thing:  So far the results haven't been too bad…
*   *   *   *
Like Tom Cruise in A Few Good Men, all true Christians simply "Want the Truth!"
*   *   *   *
The upper image is courtesy of Florida State wins 1st softball national championship.  (News4Jax | Jacksonville, Florida News, Weather, Sports.)
Re "Unintended Consequences."  The link is to The Concise Encyclopedia of Economics.  But see also Unintended consequences – Wikipedia, which distinguished an unexpected drawback and/or "perverse result" from an unexpected benefit, to wit:  "A positive unexpected benefit (also referred to as luck, serendipity or a windfall)," as in the Florida State earns first Women's College World Series title example.  (Of which more in a later post…)
Re:  "It's only weird if it doesn't work."  The link is to On "God's Favorite Team" – Part III.  See also Was Moses the first to say "it's only weird if it doesn't work?"  (In my companion blog.)
Re;  My ritual sacrifice.  You could also call it a kind of "mystic quest," if not a "canary in a coal mine" protocol:  "The phrase 'living like a canary in a coal mine' often refers to serving as a warning to others.  The actual canary had little control over its fate, but it continued to sing anyway.  In one sense, living this way indicates a willingness to experience life's dangers without compromise."
The "is truth dead" image is courtesy of Time Magazine Asks 'Is Truth Dead?' in Trump Era – TheWrap.
The lower image is courtesy of Tom Cruz I Want Truth – Image Results.  
*   *   *   *
On another note, tomorrow – June 11 – is the Feast Day for Saint Barnabas:
The apostle and missionary was among Christ's earliest followers and was responsible for welcoming St. Paul into the Church.  Though not one of the 12 apostles . . . he is traditionally regarded as one of the 72 disciples of Christ and [the] most respected man in the first century Church after the Apostles themselves.
 See On St. Barnabas, posted in June 2014, on this "Apostle of Second Chances."